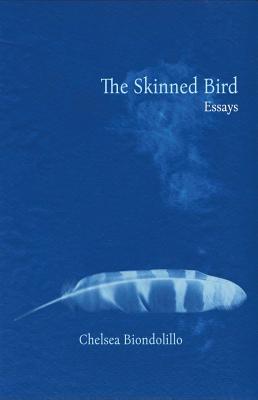 The Skinned Bird (Paperback)
Kernpunkt Press, 9781732325111, 165pp.
Publication Date: May 1, 2019
* Individual store prices may vary.
Description
Literary Nonfiction. Women's Studies. From award-winning essayist Chelsea Biondolillo, THE SKINNED BIRD is about all the ways we break our own hearts. In lyric, fragmented essays--full of geological, ornithological and photographic interventions, with landscapes, loss, and longing--Biondolillo travels the terrain of leaving and finding home while keeping her sights fixed firm on the natural world around her. Includes "How to Skin a Bird," winner of the Carter Prize for the Essay, and the Best American Essays 2014 notable, "Phrenology." "Sometimes when a human is truly an animal, their thinking patterns shift in fundamental ways, absorbing the color here and the systems within systems, to the point where they feel alienated from humans and the human part of themselves. The ache and dizziness of pulling these back into an integrated body and psychology is a story only a few of us can tell. Luckily, Chelsea Biondolillo is here to walk us through that process with no apology, only reverence."--Kristin Hersh "Birds fill this book. But THE SKINNED BIRD is also full of music, silence, rain, deserts and desertion. Chelsea Biondolillo shows us through science, memory, an updraft of questioning, and a flicker of answers how we learn and relearn how to sing. Like the space feathers need between them, Biondolillo gives us the space inside these essays for the air to flow and lift. Don't worry if there is a pause. Biondolillo will stitch you in. THE SKINNED BIRD is a brilliant dive into how deeply we can love people and place and dirt and birds and air. And how we sometimes have to let go of all of that to truly fly."--Nicole Walker "That every bird has on its chest a featherless patch ideal for our incision, that we learn our songs in the phrases our families hold aloft and, once each phrase is learned, repeat it as though our own invention. Chelsea Biondolillo doesn't shy away from how the figures of our childhood may, and do, compose our adulthood. At the same time, Biondollilo's lyric--sometimes fragmented, sometimes purposefully obscured, and other times replete unto bursting--essays hold open the moment where a long-repeated note may slip or twist, a new note sound. In a new home, a new city, or the final walk on the familiar towpath, we might alter our song just enough that it continues to contain our history and finally ushers us into the vast expanse of our future."--Danielle Pafunda "Chelsea Biondolillo's THE SKINNED BIRD is nothing short of breathtaking. Between poetry and prose, between flight and feet in the dirt, between feather and bone, the stories open up what we mean when we say being, steal your breath, and bring you back to life so that we might yet remember the risk and beauty involved in becoming. We could all use a new way to imagine becoming just now. Chelsea forges a path through imagination, science, the natural world, and language back to the heart of all things. I will read this book into forever. THE SKINNED BIRD is tattooed on my heart."--Lidia Yuknavitch "Chelsea Biondolillo's THE SKINNED BIRD seamlessly weaves science and intuition into text, image and diagram that allows us to travel wild-eyed and headfirst into this deliberate and hopeful repurposing of trauma and loss. We are transfixed by the baby bird who leaves a perilously broken nest to finally be able to see, then sing, and through the sharing of these songs, we manage to finally hear our own."--Joanne Dugan.