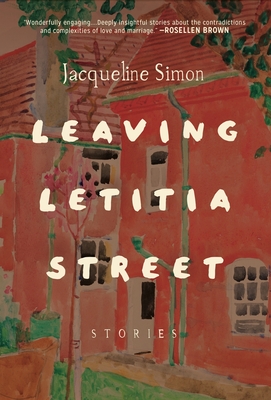 Leaving Letitia Street
Hardcover

* Individual store prices may vary.
Other Editions of This Title:
Paperback (4/9/2020)
Description
"Gracefully written, witty, and empathetic, Leaving Letitia Street has been a long time coming but its rewards were surely worth waiting for." -Rosellen Brown
Jacqueline Simon writes richly varied short stories about the difficulties of creating or maintaining relationships with the people one may love best: spouses, aging parents, meddling siblings, children, and lovers young and old. An ambitious artist confronts her family's conventional values; a woman who wants to marry finds fault with every man she meets; an accountant, practical to the core, tries to understand his gifted, clinically-depressed brother. A newlywed working woman must deal with a lively stepchild; adult children quarrel over their father's need for a nursing home. A lonely undergraduate meets the wrong woman.
Emotionally-charged stories like "Cheats" can also be laugh-out-loud funny despite the characters' high stakes. Although a few characters make reappearances at different points in their lives, each story in the collection stands on its own. The unforgettable Southerners of Letitia Street are as recognizable as DNA, one generation influencing the next, pulling apart or forging ahead, linking the ties that bind with those that are perhaps best broken.
This collection includes four prizewinning stories along with seven previously unpublished. These compelling, realistic, and highly entertaining tales of first love, last love, and lost love will stay with the reader long after the final page is turned.
Braeswood Books, 9781732352902, 200pp.
Publication Date: July 30, 2020