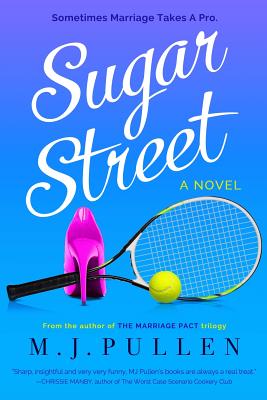 Sugar Street (Paperback)
Freshwater Ink, 9781732382206, 320pp.
Publication Date: August 7, 2018
* Individual store prices may vary.
Description
In the idyllic Atlanta enclave of Sugar Mills, four women are struggling to keep their marriages alive in the hectic whirl of middle-class suburbia.
Adventurous Jess adores her sportswriter husband, but he's more likely to fall asleep than respond to her creative attempts at seduction. Delia agreed to an open marriage when she had nothing to lose; but now that the reality of her choice has settled in, she feels a void no direct sales commission can fill. Infertility has left ex-tennis star Carras feeling powerless and frustrated. PTA president Maizy is desperate for acceptance in the Sugar Mills community, and with her health-conscious husband.
Enter Parker, a gorgeous young tennis pro moonlighting as a male escort. Could a little well-orchestrated jealousy cure the marital blues? Will a risky scheme put the spark back in their suburban marriages, or burn everything they've worked for to the ground?
Playful women's fiction with relationships at its core, SUGAR STREET is a story about marriage, friendship and the wild hopes that lie beneath quiet desperation.
" Pullen] systematically dismantles the contentment of her very comfortable characters while also keeping the story bouncing with zippy, involving dialogue and a fine sense of dramatic pacing. A glitzy romp that features suburban wives making unconventional--and haphazardly disastrous--attempts to break out of the safe patterns of their lives."
- Kirkus Reviews
"Sugar Street is a funny, poignant and sexy novel about how to (and how not to) keep romance alive in a marriage. M.J. Pullen's latest is a gem, one that will make you laugh, think, and reach for your partner."
- Ann Garvin USA Today Bestselling author of I Like You Just Fine When You're Not Around
"This book is sugar and spice, and so many things... some of them not so nice. With its story of women willing to do everything to save their marriages, but ultimately saving themselves, M.J. Pullen's SUGAR STREET sucked me in and wouldn't let go until the very last page. If you're looking for a riveting, rollicking, heartwarming story with a core of steel, don't miss this gem "
- Emily Carpenter, bestselling author of Burying the Honeysuckle Girls and Every Single Secret
"The ladies of SUGAR STREET may give their neighbors something to gossip about... but it's what's going on behind the scenes with these four friends that will leave you on a sugar high. A story about midlife, marriage, and the risks we take for love... I couldn't read this one fast enough "
- Kimberly Brock, award-winning author of The River Witch