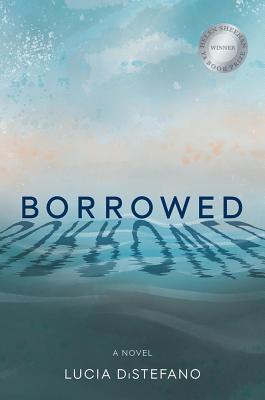 Borrowed
Paperback

* Individual store prices may vary.
Description
Love, mystery, and danger collide in this new literary thriller with the dark heart of a Gillian Flynn novel and the lyrical prose of Jandy Nelson's I'll Give You the Sun.

A triumph of authenticity, grace, and nail-biting suspense, Lucia DiStefano's ingenious debut is an unflinching, genre-bending page-turner.

As seventeen-year-old Linnea celebrates the first anniversary of her heart transplant, she can't escape the feeling that the wires have been crossed. After a series of unsettling dreams, inked messages mysteriously appear on her body, and she starts to wonder if this new heart belongs to her at all.

In another Austin neighborhood, Maxine braces for a heartbreaking anniversary: her sister Harper's death. Between raising her brothers and parenting her grief-stricken mother, Max is unable to ignore her guilty crush on Harper's old flame or shake her lingering suspicion that her sister's drowning wasn't really an accident. With Harper as the sole connection, Linnea and Maxine are soon brought together in fantastic and terrifying ways as the shocking truth behind Harper's death comes to light.
Praise For Borrowed…
"Borrowed is unlike anything I've seen in recent YA literature—it's a compelling, unpredictable thriller with a unique premise and delicious prose. DiStefano will be one to watch."  —Jennie Kendrick, Blogger, Forever Young Adult

"Borrowed successfully generates real suspense through a plot that is one part cozy mystery and one part violent psychological thriller. A literate, well-told, and original YA novel."  —Mark Pumphrey, Director of Libraries, El Paso, Texas

"Lyrical prose, full-bodied characters, and a riveting plot with shocking twists and turns that kept me guessing until the startling conclusion. I couldn't put it down!"  —Kristin Bartley Lenz, The Art of Holding on and Letting Go

"DiStefano's mastery is in the unpredictable twists, the tense build-ups, and the satisfying reveals. This breakout debut is a rare gem of a genre-bender."  —Katya de Becerra, What the Woods Keep

"In the first two acts of the novel, the combination of debut author DiStefano's lyrical prose and effortlessly nuanced characters makes for a gripping and heart-wrenching read." —Kirkus Reviews

"VERDICT Both literary and sensational, this will appeal to thoughtful readers looking for a little fun." —Beth McIntyre, Madison Public Library, WI, School Library Journal

"I've read Borrowed in less than two days and I've absolutely loved it. 5-Stars." —Alice Reeds, https://www.alicereeds.com/2018/09/review-borrowed-by-lucia-distefano.html

"The premise is engaging and contains an interesting concept of memory and humanity with beautifully written prose." —Sarah Bean Thompson, Booklist
Elephant Rock Books, 9781732414105, 264pp.
Publication Date: November 1, 2018
About the Author
Lucia DiStefano is an editor, ghostwriter, and writing coach. First-generation Sicilian-American and daughter of an olive farmer, she admits to having recurring pasta dreams. She lives in Georgetown, Texas.
1. Maxine is driven, perhaps above all else, by her love for her two younger brothers. What do Race and Will teach Max about love and about family?
2. The theme of knowing yourself/others runs throughout the book. Which challenges push Linnea, Max, and Harper to learn more about themselves and what they're capable of? And how do the assumptions they make about the people in their lives hold up along the way?
3. Despite its hopeful message and optimistic ending, Borrowed travels to some very dark places. How does the novel balance competing tones of hope and hopelessness during its final act?
4. On more than one occasion, Harper feels that she can see past Chris's monstrousness to the boy he used to be. Why do you think Harper is the only one who seems able to see this side of Chris?
5. Max feels an immense amount of guilt over Harper's death. How does Max wrestle with this guilt throughout the novel? Do you think it's justified?
6. One of the major themes of the novel's final act is healing. Think about a time when you had to overcome an obstacle. What—or who—helped you see the light?
7. The book is written from multiple points of view. How do these alternating voices drive the narrative? And how do each of the voices reflect the narrator's personality?
8. Up until the very end of the story, Max refuses to believe that Harper really is inhabiting Linnea's body. What do you think ultimately changes her mind?
9. Throughout her life, Linnea has had to struggle to survive, and baking has become not only a means of creative expression, but also a therapeutic outlet. How does the symbolic significance of the culinary arts manifest itself throughout the novel?
10. By the novel's end, Max and Linnea have become close friends. Beyond what happened at the campground, what do you think brought these two girls together? What has kept them close?
or
Not Currently Available for Direct Purchase