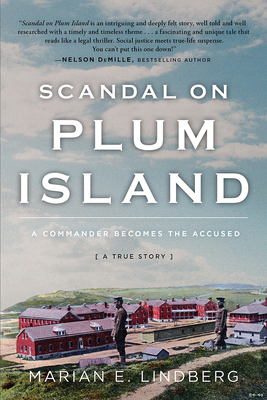 Scandal On Plum Island
A Commander Becomes the Accused
Paperback

* Individual store prices may vary.
Description
The captain wore a see-through dress. No dispute about that. Even the captain admitted that in a certain light, guests at the party could see the outline of his body through the muslin shift. Months later, a lawyer would press for details: Was the dress tied at the waist? What color and length were the captain's socks? Did others treat him "as if you were a woman"?(From Chapter One, "Cross-Dressing For Halloween")

The carefree parties on Plum Island drew the ire of Maj. Benjamin Koehler, yet he would be the man arrested and accused of "immoral conduct" at the end of 1913. Koehler, a West Point alumnus and Philippine War veteran, had been tasked with bringing discipline to the 700 men living at Fort Terry, a sprawling post on a beautiful island off New York's coast. He lived on officers row with his sister, an educated and independent woman who, like her brother, was unmarried. Little did the devoted siblings know that Fort Terry would soon be the stuff of front-page headlines, with Ben Koehler at the center of them--and not for his dutiful service to his country.

The claims that Fort Terry's commander had groped male subordinates shocked the Army and Koehler's supporters, but the accusers were smart, triggering one of the first high-profile instances of federal legal process against a high-level military officer. Well before "homophobia" was a term, Koehler struggled to prove that the accusers were lying in a trial rife with innuendo and ill-informed ideas about how a "homo-sexualist" would behave.

Thoroughly researched, involving historical figures as contrasting as Theodore Roosevelt and Susan B. Anthony, Scandal on Plum Island follows Koehler from respected officer to vilified outcast and turns up provocative information about his defense. His story is set in the context of changing standards of masculinity as the action moves from America's heartland to New York City, the Philippines, San Francisco, eastern Long Island, and government offices in Washington, D.C. In addition to telling a fast-moving and compelling story, Scandal on Plum Island<\I> speaks directly to modern discussions of gender norms, testimonial injustice, the high cost of stereotypes, and other issues of pressing concern.
Praise For Scandal On Plum Island: A Commander Becomes the Accused…
"Scandal on Plum Island is an intriguing and deeply-felt story, well told and well researched with a timely and timeless theme. The insular setting of Plum Island and the insular world of the U.S. Army combine to make this a fascinating and unique tale that reads like a legal thriller. Social justice meets true-life suspense. You can't put this one down."  —Nelson DeMille, best-selling author of Plum Island

"An amazing and important story which will surprise many people (as it did me) . . . A meaningful story with relevance today" —Ann Northrop, host of cable TV show "Gay USA"

"What an interesting tale, revealing how fragile and precarious is our sense of masculinity, and how the gender police can test even the most decent of men."  —Michael Kimmel, SUNY Distinguished Professor of Sociology and Gender Studies Executive Director, Center for the Study of Men and Masculinities
East End Press, 9781732491274, 416pp.
Publication Date: June 2, 2020
About the Author
Marian Lindberg grew up on Long Island, attended high school in Concord, MA, and began her career as a reporter for The Buffalo Courier-Express covering the criminal justice system, local government, and environmental issues. Lawyers proved to be some of her most informed sources, leading Lindberg to become a lawyer herself. She went on to represent writers, reporters and other communicators and participate in high profile first amendment and civil rights cases. In 2005 she began handling land preservation deals for an international environmental organization and traveled to Brazil to research a family story of murder in the Amazon. The resulting book, The End of the Rainy Season: Discovering My Family's Hidden Past in Brazil won an Elle readers' prize. In her latest book, Scandal on Plum Island: A Commander Becomes the Accused, Lindberg applies her legal and research skills to tell the little-known story of an unmarried Army major portrayed as an out-of-control "homo-sexualist" in a sensational 1914 court-martial on a small island off the eastern end of Long Island.