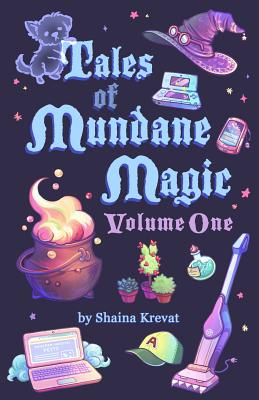 Tales of Mundane Magic (Paperback)
Volume One
Shaina Krevat, 9781732501300, 122pp.
Publication Date: November 14, 2018
Other Editions of This Title:
Paperback (6/26/2019)
* Individual store prices may vary.
Description
Nothing too strange ever happens to Gertie and Bridget Mallon.
The sisters don't have magical adventures fighting off dark lords or saving the world. Gertie spends her time learning the skill of enchantment, and Bridget has the ability to see things no one else can see with her left eye, which was bewitched in an accident many years ago.
Sure, they attend Flories Boarding School, where Gertie takes a potions class and Bridget plays basketball, and the occasional magical anomaly takes place, but who doesn't deal with the occasional poltergeist or curse?
Life is relatively calm for the Mallon sisters, but things might not be quite as mundane as they appear.
About the Author
Shaina Krevat is a software engineer at YouTube, living the dream of working for the company she used to upload to when she thought she was going to be a film director/YouTube Creator. She graduated from UC Berkeley with a Bachelor of Arts degree in Computer Science, which she views as a perfect metaphor for the combination of art and programming in her life. She has spent her time creating fiction (mostly fantasy) in the form of short films, books, musicals, songs, and most recently short stories, like the ones found in this book.

She lives in Los Angeles with her wonderful dog Atlas, who constantly reminds her that real, live dogs are better than fictional ghost dogs, except when they pee on couches.