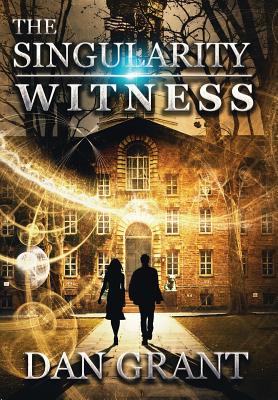 The Singularity Witness (Hardcover)
Mindscape Press, Inc., 9781732504004, 440pp.
Publication Date: August 20, 2018
Other Editions of This Title:
Paperback (8/20/2018)
* Individual store prices may vary.
Description
The Singularity Witness. What happens when a radical technology ushers in an ominous future? Governments and corporations will kill to control it. So murder and abduction are just the beginning.
When a clandestine research lab disposes of its test subject and kidnaps a U.S. Senator to protect its secrets, those events trigger a federal investigation. The covert program requires the services of Thomas Parker, a Princeton University professor and cutting-edge neurologist, to deliver its breakthrough achievement. And FBI Special Agent Kate Morgan needs Parker to help her infiltrate the secret lab.
What they don't know is that the senator's abduction was orchestrated by Stewart Richards, who is obsessed with creating The Frontier--neurological singularity. To Richards, no sacrifice is too great for a cause that brings him world-wide recognition and unravels the mysteries of the mind.
Together, Parker and Morgan are faced with the dilemma of advancing the revolutionary technology in order to solve the senator's abduction, save The Singularity Witness and others, and survive.
The Singularity Witness plays off "what if" scenarios facing current medical and biological research endeavors. Some of these initiatives may fundamentally change social and geopolitical landscapes forever.
What is neurological singularity? Who is The Singularity Witness? Read the book to find out.
ADVANCED PRAISE FOR THE SINGULARITY WITNESS:
Starred Reviews Awarded to Books of Excellent Merit by Pacific Book Reviews and Hollywood Book Reviews
"The worlds of science, ethics, law, morality, and loyalty, constantly battle for supremacy in Dan Grant's intellectually stimulating thriller, The Singularity Witness." Pacific Book Reviews
"Dan Grant has taken some of the world's most controversial ideas surrounding medicine and technology and transformed them into a carefully crafted, slick thriller that is without a doubt one of the most pioneering books to come out in 2018." ... "The Singularity Witness by Dan Grant is a page-turning book for all who love intricate thrillers with a stunning ending." Hollywood Book Reviews
"Dan Grant's debut thriller, THE SINGULARITY WITNESS, blew me away. It has everything I love in a novel (and so much more): breathless suspense, a rollercoaster of a plot, great characters, and a storyline ripped from tomorrow's headlines. The science and speculation alone are worth a read, not to mention where the novel takes you. An eye-opening and explosive debut. Don't miss it " James Rollins, New York Times internationally bestselling author of The Demon Crown
"Packed with menace and peril this clever thriller is a stylish blend of fact and fiction. An entertaining romp from start to finish that makes you think - is this real? Definitely one for the keeper shelf." Steve Berry, New York Times internationally bestselling author of The Jefferson Key
"Biomedical research is designed to open doors to enlightenment but sometimes these doors lead to deep, dark passages. Such is the case with THE SINGULARITY WITNESS. A page-turner that is well researched and written." DP Lyle, MD, award-winning and bestselling author
"A pulsing thriller, deftly written and topical." Andrew Gross, New York Times internationally bestselling author of The One Man