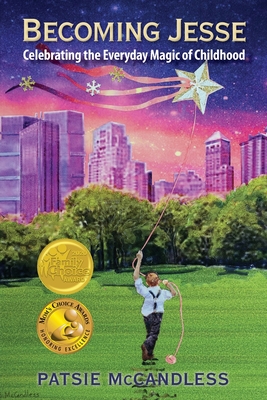 Becoming Jesse
Celebrating the Everyday Magic of Childhood
Paperback

* Individual store prices may vary.
Description
An enchanting, inspirational story set in 1950s New York City with Jesse, a 6 year-old, orphaned boy of comic charms and soul-lighting wisdom. He is raised by his beloved Irish gypsy grandmother, Dearie, who owns her own theater, and his uncle Conor, who is studying at the Actors Studio. They reside in a lively apartment building, where Jesse has friends, both young and old, in a melting pot of neighbors with the lingering accents of their old countries.
Jesse loves to solve a puzzle, and he alights on a jig-saw of a mystery twisting around his other "disappeared" grandmother. It becomes his quest to find her, and with imagination and unflappable determination, his inborn magic touches everyone around him in many an adventure.
Jesse has his ups and downs in curious riddles and emotional challenges, all swirling through a world of theater, music, classic literature and gypsy storytelling. His everyday magic is celebrated and guided by the wisdom and humor of his precious grandmother, Dearie, and the true meaning of love's blessings flows through Jesse's quest, finding its way into his joy and inner light.
Becoming Jesse is entertainingly inventive and surprising, and is a delightful training tool for parents and grandparents - and anyone who loves a child. It is filled with everyday lessons, insights and attitudes for keeping the magic of childhood shining. We all want our magic back. Here is your chance. Waiting for you. Let Jesse help you re-ignite and revel in becoming your own magic. Light On
Light on Publications, 9781732506602, 340pp.
Publication Date: October 19, 2018