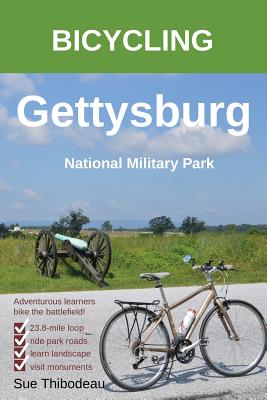 Bicycling Gettysburg National Military Park (Paperback)
The Cyclist's Civil War Travel Guide
Civil War Cycling, 9781732603806, 286pp.
Publication Date: March 11, 2019
* Individual store prices may vary.
Description
Bicycling Gettysburg National Military Park: The Cyclist's Civil War Travel Guide is the one-and-only book that you need to bicycle the Gettysburg battlefield. Take a ride back in time and learn the three-day story of the Battle of Gettysburg (July 1-3, 1863) from the perspective of a bicyclist.
This book's 286 full-color pages are packed with 34 maps, hundreds of monument and landscape photographs, and GPS points for a 23.8-mile looped tour over 6,000 acres of park land. Written for experienced and recreational bicyclists alike, this guidebook is a treasure trove of historical summaries that even licensed battlefield guides will enjoy reading and (re)committing to memory.
The author learned from personal experience that Gettysburg auto tours are not ideal for bicyclists who want safe, circular, and historically themed rides over park lands (avoiding traffic, where possible). This guidebook is the answer.
The guidebook includes:
34 highly detailed, color bicycling maps over 6,000 acres of park land
Turn-by-turn directions for a 23.8-mile circuit, mostly on park roads
Tips on bicycling gear, restrooms, water, picnic areas, racks, etc.
100+ monument photos and GPS points, most marked on maps
Map-to-text and text-to-map cross references for learning on the road
Monument histories tied to all 3 days of battle events (July 1-3, 1863)
35 labeled landscape photos
Orienteering tips to connect the battle story to Gettysburg geography
Concise summary of the Battle of Gettysburg
6-page glossary of basic Civil War terms
10-page annotated bibliography
Endnotes that document sources
For the history buff ... The book's maps identify the locations of:
All state monuments
All equestrian monuments
All bronze statues of individuals
A sampling of regimental monuments for all states
Farm buildings, towers, and more
For the bicyclist ... The book's maps identify:
All roads, especially park roads and one-way roads
Significant ridges, hills, fields, woodlots, and more
Natural and physical landmarks for orienteering
Restrooms, portable toilets, and water sources
Picnic areas, bicycle racks, and parking lots
Town roads that have sidewalks or bicycle lanes
The book covers these Gettysburg-specific bicycle touring topics:
Bicycle selection, transportation, and rental options
Lodging considerations, parking
Contingency planning (in case of rain)
Pointers to bicycle laws and park policies
Bicycling Gettysburg National Military Park: The Cyclist's Civil War Travel Guide provides a never before published experiential framework for learning U.S. Civil War history on a bicycle.
Take a ride back in time