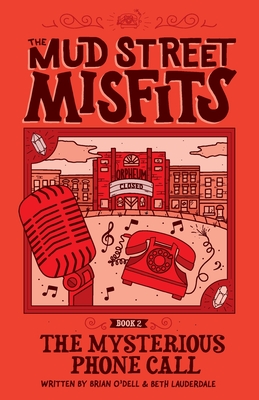 The Mysterious Phone Call (Paperback)
A Mud Street Misfits Adventure
Mud Street Misfits, LLC, 9781732672321, 216pp.
Publication Date: September 28, 2019
* Individual store prices may vary.
Description
From the Readers' Favorite Award winning authors of "The Girl in the Blue Tie-Dye Shirt" comes a new Mud Street Misfits Adventure
"Why does a job matter so much? Home, family, friends ... roots, that's what's important "
The Mud Street Misfits are back and this time Sarah needs their help Join them as, with help from the 'other side', they fight to save the Orpheum Theater before it's too late
Sarah's mom has taken a new job in Chicago and now they have to move ... again But Sarah loves Ozark. She's lived here since the 4th grade and even formed The Mud Street Misfits with her brother David, and best friends, Liam, Connor, and Molly. She can't bear the thought of leaving the things she loves, but she has no choice. She's never been able to speak up for herself and this time is no different.
When she finds out that cold-hearted and ruthless Mayor Scott is planning to demolish the beautiful old relic, the Orpheum Theater, she is determined to save it. She may have to leave the town and people she loves, but she can at least leave behind a beloved landmark for the people of Ozark to enjoy.
As the Misfits race against the clock to save the old building they discover that there is much more to the Orpheum Theater than what can be seen with the naked eye.