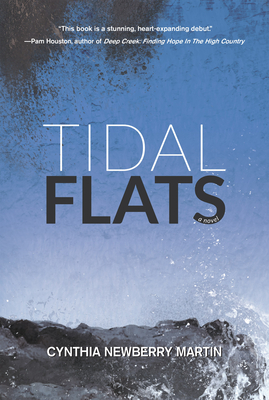 Tidal Flats
A Novel (Sense of Self, Deconstructed Lovers, Choices)
Hardcover

* Individual store prices may vary.
Other Editions of This Title:
Digital Audiobook (11/26/2019)
Paperback (6/14/2022)
Description
2020 IPPY Award Winner for Literary Fiction, 2020 NIEA Winner for General Fiction and Best Cover
In this elegant and honest debut novel by Cynthia Newberry Martin, Cass and Ethan must navigate that fine line between the things they want for themselves and the life they want together, and it appears each will have to make a choice--the person they love or the life they want.
Mary Cassatt Miller falls for famous photojournalist Ethan Graham. For months at a time, Ethan's work takes him to Afghanistan, and Cass, who's passionate about her job in Atlanta, wants a husband who comes home at night. Then, there's the issue of family―he wants one; she doesn't.
What they do want is a life together, so Ethan agrees that after three years, he will stop traveling―whether Cass agrees to children or not. But for Cass, who grew up with a mother who didn't want her and a father who was never home, even thinking about children troubles her.
Nine weeks before their third anniversary, Cass wonders whether Ethan will try to squeeze in one final trip to Afghanistan. When he does, she's unsure if he will ever give up the work he loves. And if he won't, well, she will not repeat the life her parents had. As the clock counts down, it doesn't help that Singer, the artist-bartender, is always in Atlanta, and the enthralling Setara, the subject of Ethan's most famous photograph, is also his business partner. Then, a new danger in Afghanistan changes everything.
If you are a fan of books such as Writers & Lovers by Lily King, An American Marriage by Tayari Jones, Lost Children Archive by Valeria Luiselli, The Maytrees by Annie Dillard, or Ladder of Years by Anne Tyler, you're going to love Cynthia Newberry Martin's debut novel Tidal Flats.
Bonhomie Press, 9781732676824, 364pp.
Publication Date: September 9, 2019
1. Husbands and wives make agreements—small, unspoken ones and larger ones that can be deal-breakers. What do you think of the agreement that Cass and Ethan made before they got married? Was there another way for them to work out their differences and still stay together? Do you think of marriage vows as an agreement?
2. At the halfway point in the book, what have Cass and Ethan learned about each other and about marriage?
3. The senior living arrangement at Howell is based on that of a family. Do you think it's a viable alternative to group homes?
4. The Fates acquired the nickname the "Fates" long before Cass arrived at Howell House. How do you think that came about? What do you think Cass meant when she said she took their nickname as a sign?
5. In the novel, we get glimpses of Afghanistan. Discuss the different ways we're able to see into that country. Did you learn anything surprising?
6. What do you think of Ethan's project to put cameras in the hands of the Afghans?
7. What are your thoughts about Setara? How do you think being an Afghan and living in Afghanistan affected her personality?
8. Families of origin are powerful influencers. How did Cass's and Ethan's families of origin affect their marriage?
9. Do you think Vee is a good friend? Do you agree with her advice to Cass?
10. What do you think of Singer? Is he good for Cass?
11. Discuss the book's title. How does it apply to Ethan and Cass's relationship? How does it apply to the other characters and their relationships?
12. A number of books are not only mentioned but are a part of the story. How do they add to the overall experience of reading Tidal Flats?
13. We see many different marriages in the novel. Discuss the ways in which each one works or doesn't work.
14. Are Cass and Ethan good for each other?
15. What do you think of Ethan's choices? Do you have confidence in him?
16. In the end, what do you think Cass has decided? What would you have done?
17. The novel was partially inspired by Steve McCurry's famous photograph "Afghan Girl." Did that add to the story? Did it cause you to look it up?
18. By the end of the novel, what have Cass and Ethan learned about marriage?
19. Did Tidal Flats change your perception of marriage in any way?