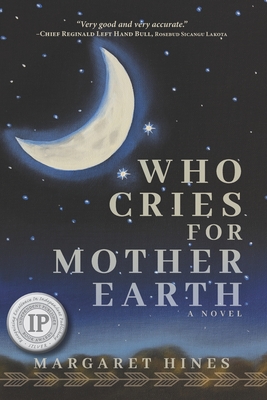 Who Cries for Mother Earth (Paperback)
Brings Good, LLC, 9781732680715, 246pp.
Publication Date: August 28, 2018
* Individual store prices may vary.
Description
Who Cries for Mother Earth is an extraordinary glimpse into Native American tradition, faith, love, family and destiny. A young Lakota woman discovers her special place in the world and sets out to learn about her people, her place on earth, and how nature and man interact. Through a vision quest filled with extraordinary imagery, dire warnings for Mother Earth, a deep respect for the past and hope for the future, Margaret Hines shares Lakota culture and spirituality in a way that will leave you breathless. "A sweeping novel about a Lakota woman's transcendent vision of life, nature, and spiritual survival amid ever-threatening forces. It is a gripping and uplifting statement of promise, as registered in Yellow Bird Woman's battle against hopelessness and destitution to save her world. Hines's oft-ethereal prose is focused, dramatic, and beautifully rendered."
- Jerome A. Greene, author of American Carnage: Wounded Knee, 1890 "Very good and very accurate."
- Chief Reginald Left Hand Bull, Rosebud Sicangu Lakota Includes Foreword by Charles E. Trimble, Oglala Lakota Features: Glossary of Lakota terms and pronunciation guide.