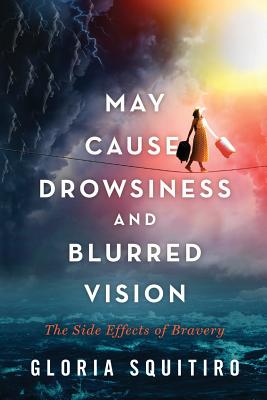 May Cause Drowsiness and Blurred Vision (Paperback)
The Side Effects of Bravery
Gloria Squitiro Publishing, 9781732721609, 260pp.
Publication Date: May 14, 2019
* Individual store prices may vary.
Description
Funk calls her "a skydiver afraid of heights"--someone who figures out how to spend a cost-free summer in Europe, arranges it all, but when it's time to leave, has an anxiety attack walking out the door.

In this first volume of her humorous, sharp-witted, and brutally honest memoir, Gloria pushes past her fears, spends the summer abroad with her family (living far outside her comfort zone) before setting up a campaign office, and eventually, without any experience, helps Funk cross the finish line--only to learn that being Kansas City's First Lady will be much more difficult than she could've ever imagined (but those stories are saved for later books).

In sharing her story of courage and becoming her New and Better Self, Gloria hopes to inspire you to also step out in faith, to make a difference where it counts, and to stand up for others ... and yourself.

Despite spending years in Nashville, Kansas City, and Washington, DC, Gloria Squitiro is still a New York Italian girl at heart, who can't--and won't--stop voicing what most of us know but are unwilling to say.
"A bundle of ideas" --The Wall Street Journal