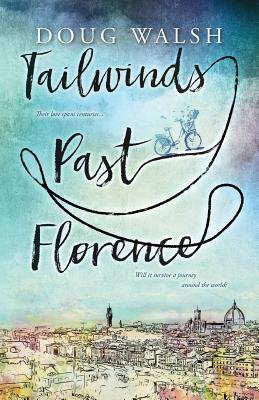 Tailwinds Past Florence
Paperback

* Individual store prices may vary.
Description
"Travel, both conventional and through time, brings rousing action, romance ..." - Kirkus Reviews
"An enchanting, whirlwind tale of romance and adventure." - BookBub
Can a trip of a lifetime save a troubled marriage? When Edward and Kara embark on a tour around the world, they inadvertently shatter the boundaries of time -- and encounter mysterious men with a connection to Kara's soul.
After getting blacklisted from the rich world of venture capital, twenty-nine-year-old Edward Vaughan will do anything to avoid telling Kara what happened. Even if it means agreeing to her dream of bicycling around the world. Kara, tired of being married to a workaholic, was readying for divorce. Now, she's packing her bags for the trip of a lifetime. Together, they pedal away from Seattle, headed east on the open road across America to Europe, and beyond.
The couple's decision reverberates across the centuries, breaking the bonds of time, and thrusts Kara into the arms of a Florentine artist claiming to be her soulmate from long ago.
As the deceptions mount with each passing mile, Edward finds himself trapped in a battle with a past life over an eternal love. Will he learn the errors of his ways and become the man Kara craves? Or will she give into temptation and risk everything in pursuing her soul's desire.
TAILWINDS PAST FLORENCE is a road-tripping love story with a time travel twist, landing readers in the saddle of a page-turning adventure.
Doug Walsh, 9781732746701, 340pp.
Publication Date: January 22, 2019