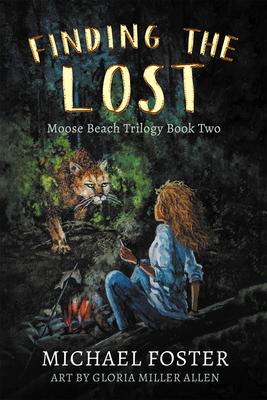 Finding The Lost
Moose Beach Trilogy Book Two
Paperback

* Individual store prices may vary.
Other Editions of This Title:
Hardcover (11/19/2019)
Description
Three years older now, our heroine Alicia is on the annual family visit to their mountain cabin in the wilds of Idaho. She takes a break from school assignments and ventures outside, expecting to see her father Richard chopping or stacking wood and her mother, Katie, focused on her latest painting of the beautiful surroundings. Alicia is stunned and confused to find them both seemingly frozen, trapped inside an amber-colored bubble. No matter how loud she screamed or how hard she beat on the bubble, her parents did not move a muscle, nor did they breathe. The frightened teenager had a gut-wrenching feeling that she was the only one who could save them. Alicia had heard unusual sounds during this visit, as if someone or something was calling to her. With the discovery of her parents in amber, she had the sudden realization that the Wild Side might be calling her back. This time Alicia prepared, filling a backpack with things needed years ago when the youngster unknowingly walked through the portal to the other side. With food, supplies, and an extra layer of clothes, she ventures on the most important adventure she's had in her short life. Alicia knew she had to get back to the Wild Side to free her parents from the bubble and she knew that she must be prepared for anything. Once on the other side, Alicia finds herself fearing for her life in the search for answers to the mystery that holds her parents captive. She befriends Tawny, a frighteningly beautiful cougar who becomes her ally and protector when Alicia decides to look for "The Ancients," beings that her friends in the Wild Side had talked about three years ago. She felt in her heart that they could help her free her parents, but could they. More importantly—would they?
Z Girls Press , 9781732829350, 234pp.
Publication Date: November 19, 2019
About the Author
Michael Foster is an avid gamer and works full time for a major tech company. He loves to host backyard barbecues whenever possible and has a vast network of friends in many countries, especially South America, where he met his wife. As a child, Michael spent long summers at his family's cabin in Idaho, built by his maternal great-grandfather in the late 1920s. Michael's inquisitive nature kept him out and about, always exploring. Drawing inspiration from his adventures at the cabin, many of Michael's characters sprang from watching his wife and daughter explore his childhood stomping grounds. Gloria Miller Allen has lived in Idaho since 1974, though she spent her childhood in the Mid-West. The first job she remembers was in the Litho Art Department of Hallmark Cards headquarters in Kansas City, MO. Allen was 18 years old and learned an incredible amount about color and value contrasts in painting. After marriage, she and her husband moved to Corvallis, OR for his graduate program in Chemistry, Physics, and Math. After a Ph.D., the family of five moved to East Brunswick, New Jersey, for about five years, then to Idaho.
or
Not Currently Available for Direct Purchase