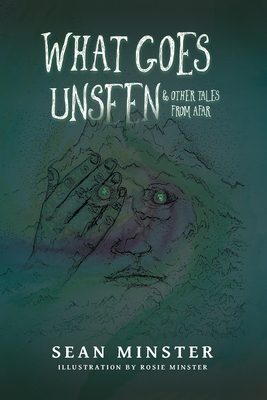 What Goes Unseen
& Other Tales From Afar
Paperback

* Individual store prices may vary.
Description
From everyday to ethereal, the stories of What Goes Unseen & Other Tales From Afar peer into the cracks of life, asking what lurks in the liminal spaces between the known and the unknown.
Debut author Sean Minster captures the fear, fun, mystery and murder of campfire tall tales mixed with the intelligence, angst, and nostalgia of the author's unique perspective and ever-curious mind. The alluring and literary stories in What Goes Unseen unravel the fear and wonder that exist in the world around us and emerge from the genesis of our very own minds.
Minster inspects what lies under a child's bed and inside a guilty man's heart. These tales of creation and destruction call on everything from Native American mythology, to pop culture, and Johnny Cash's The Long Black Veil. 
The seven short stories in this collection are inspired by different experiences in the author's life. If you like shows like Twilight Zone,Black Mirror,or Amazing Stories, you'll enjoy this collection of short stories.
Praise For What Goes Unseen: & Other Tales From Afar…
"From the first few words... Sean Minster Transports the Reader to a Poe-esque time an place... The beckoning language and pace keep things moving toward a bleak, yet satisfying resolution. I thoroughly enjoyed Sean Minster's creation..." —Mark Negrette Author & Filmmaker
 

"In its absorbing passion for the weird and weirded out, What Goes Unseen is an entertaining short story collection. The seven stories of Sean Minster's What Goes Unseen are inspired by philosophical speculations, folklore, and tall tales. Within them, far-fetched situations and elusive characters prove to be able embellishments... Each story is followed by an author's note. Within these notes, background references, such as a note that the song "Long Black Veil" led to a story of the same name, are useful for the context they provide and help to connect tales to popular sources. However, some of their explanations, including an assertion that the children in "The Great Hodag Hunt" might have invented the story's Russians, destroy the entries' ambiguity. Color thumbnail illustrations from Rosie Minster adorn the first pages of each story, comprised of landscapes and suggestive facets. A bonus excerpt from a novel-in-progress rounds out the book, reinforcing its focus on wilderness adventures." —Karen Rigby (December 20, 2019)
Z Girls Press , 9781732829374, 224pp.
Publication Date: October 15, 2019
About the Author
Sean Minster was born and raised outside of Milwaukee, Wisconsin. He grew up within the Irish-American community participating in hurling, Irish dancing, baking soda bread and scones, and volunteering for the Milwaukee Irish Fest. Celtic folktales and story-telling styles strongly influenced young Sean, as did the hundreds of adventure books he read as a child. They were as much an escape from the bitter cold winters as they were a promise of adulthood adventures, but only if one chose to pursue such a life. He was fascinated by the story of humanity, aka history. Rosie Minster was born and raised in Wisconsin with her favorite brother (see About The Author) and three older sisters. She always had a knack for being creative, drawing, and painting throughout childhood, eventually attending the University of Wisconsin Stevens Point to study 2-Dimensional Design and Art History. Rosie draws inspiration from all facets of life. Her many artistic pursuits include playing guitar, singing, dancing, cooking and baking, writing poetry, and tattooing, whether they are temporary with henna or permanent. 
or
Not Currently Available for Direct Purchase