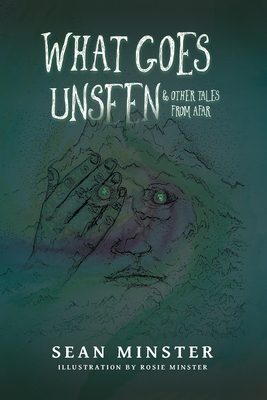 What Goes Unseen (Paperback)
& Other Tales From Afar
Z Girls Press, 9781732829374, 224pp.
Publication Date: October 15, 2019
* Individual store prices may vary.
Description
From everyday to ethereal, the seven stories in What Goes Unseen and other tales from Afar peer into the cracks of life, asking what lurks in the liminal spaces between the known and unknown. Creating a collection of short stories for adults in the vein of Scary Stories To Tell In the Dark, with a mix of scary, thought-provoking, and fun chapters. Sean Minster captures the fear, fun, mystery, and murder of campfire tall tales mixed with the intelligence, angst, and nostalgia of his own unique perspective. Several of these short stories are literary in nature while some are his take on local lore and folk tales.
The stories look at what wanders the woods, be they beasts of childish lore, otherworldly temptresses, or rebellious pirates. Minster inspects what lies under a child's bed and inside a guilty man's heart. These tales of creation and destruction call on everything from Native American mythology, to pop culture like Kipling's The Jungle Book and Johnny Cash's The Long Black Veil. What Goes Unseen unravels the fear and wonder that exist around us in the world and that emerges from the genesis of our own minds.
Each of the seven short stories in this collection is inspired by different experiences in the author's life. Fear, fun, mystery, and murder all live on in this debut collection by Sean Minster.
Readers are saying:
"...Sean Minster transports the reader to a Poe-esque time and place. I wish this brief journey into the mind of guilt was longer. The beckoning language and pace keep things moving toward a bleak, yet satisfying, resolution..." Mark Negrete Author & Filmmaker about the opening story "Long Black Veil"
"A thoughtful immersion into the unknown. Minster doesn't hold back as he guides you through endless marsh, woodlands, and brutal coastline in this collection." Jason Demers Outfitter & Culinary Artist
"Pull back the veil and discover what lies beneath. Sean Minster will transport you to worlds you never imagined... but he did. From childhood adventures to journeys through the cosmos, What Goes Unseen will raise your heart rate and tickle your senses with surprise, adventure, and wonder. Michael Dvorak - Educator & Adventurer
A fantastic debut What Goes Unseen is an inspired collection of tales. Evoking stories of a bygone era, mystery and adventure take center stage in Sean Minster's first novel. This eclectic series guides you through the mists of the unknown and leaves you hungry to return. Truly a must-read for those in search of an armchair excursion. Brendan Murphy - Writer & Musician