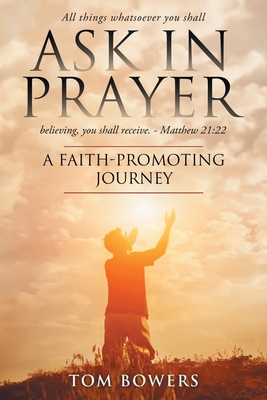 Ask In Prayer (Paperback)
A Faith-Promoting Journey
Thomas Bowers Jr, 9781732854215, 222pp.
Publication Date: April 9, 2019
* Individual store prices may vary.
Description
When I was eleven years old, I auditioned for the part of Amahl, in the Christmas musical, Amahl and the Night Visitors. "I wanted the part and wondered what more I could do to get it. I could pray In the bathroom in our home, I locked the door to be alone and knelt on the beige tiled floor. I put my hands together, bowed my head and reverently asked out loud, 'Heavenly Father, please give me the part of Amahl.' Confident God had heard my prayer, and I would get the part, I sang for the selection committee.
The part went to another boy. My disappointment left me wondering why God had not answered my prayer. I knew God answered prayers. What went wrong?"
Does God really answer our prayers? One man of faith shares his lifelong quest for a prayerful connection with God.
Tom Bowers' boyhood hopes prompted him to pray. But he never imagined how God's response would set a pattern for his life. Through physical trauma, depression, and family tragedy, he kept seeking God in prayer.
Empowered by his devotion to Paramahansa Yogananda, he started a meditation group in Utah. At the time, he was a student at Brigham Young University even though he was not a Latter-day Saint. Later he united with Reverend Sun Myung Moon's vision of one world under God and became a Unification Church leader. Matched by Reverend Moon, he and his wife eventually accepted Jesus Christ and joined the Church of Jesus Christ of Latter-day Saints. His remarkable spiritual journey is a testament to the truth that God answers prayer in His own time and in His own way.