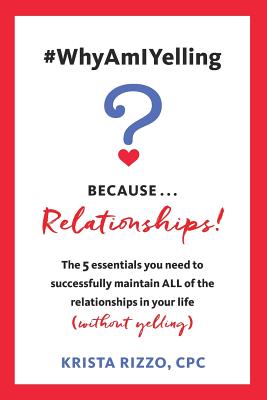 #WhyAmIYelling? Because...Relationships! (Paperback)
The 5 essentials you need to successfully maintain ALL of the relationships in your life (without yelling)
Why Am I Yelling, LLC, 9781732857223, 216pp.
Publication Date: November 13, 2018
* Individual store prices may vary.
Description
YOU + THIS BOOK = SUSTAINING LOVING RELATIONSHIPS
Since the beginning of time, we humans have been working to have successful relationships in every area of our lives. Krista Rizzo knew early on through her coaching work, that she would write a book about this very struggle. In this book, Krista Rizzo uses real life stories of humor and heartache to demonstrate how, by focusing on 5 simple relationship essentials, we can cultivate and maintain our own loving, successful relationships.
Transformational Life Coach, Krista Rizzo was inspired to write this book through her own relationship experiences as a woman, wife, daughter, friend and mother. She realized that while there are plenty of relationship books out there addressing specific needs, there's not one that touches on all of them in the same place.
In this book, Krista shares with you everything she's learned through her own experiences with relationships and through her coaching work. From the failures to the successes and everything in between, throughout every stage of her life
Through the creation of the 5 Relationship Essentials, Krista is making available to you:
The art of successful communication in all of your relationships

Why intimacy in every relationship is so important

Why creating boundaries can be a game changer

The reasons why R-E-S-P-E-C-T matters

How having a support system in place is imperative to help you thrive
. . . and so much more
Whether you are a seasoned relationship veteran, are in need of some guidance or just someone who wants a good laugh at Krista's expense, you're sure to find pieces of this book that are relatable and helpful to you as you continue to build on your relationships