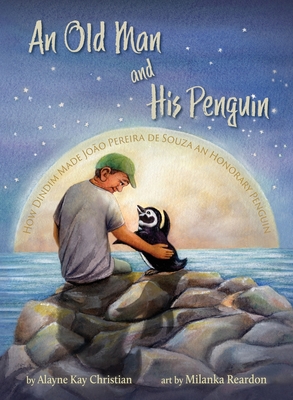 An Old Man and His Penguin
How Dindim Made João Pereira de Souza an Honorary Penguin
Hardcover

* Individual store prices may vary.
Other Editions of This Title:
Paperback (8/1/2020)
Description
"A moving, affectionate, and joyful tale, all the more so for being true." - Kirkus Reviews
"An Old Man and His Penguin holds a number of important messages about human/animal relationships, love, oil slicks and their impact on sea life, and loneliness. . . . its underlying focus on letting go and reaping rewards from non-possessiveness offers an outstanding lesson about love for the very young." -- D. Donovan, Senior Reviewer, Midwest Book Review
Off the coast of Brazil, Jo o rescues a lifeless, oil-covered penguin (Dindim) and nurses him back to health. Dindim adopts Jo o as an honorary penguin, and the steadfast friends do everything together. They swim together, fish together, and stroll the beach together. But there are real penguins somewhere across the sea. So one day, Dindim leaves Jo o. The villagers tell Jo o the penguin will never come back. Jo o cannot say if he will or will not. Are the villagers right? Will Dindim ever patter into his old friend's loving arms again?
"Adults looking for an inviting animal story with an important message will welcome this appealingly different seaside tale." -- D. Donovan, Senior Reviewer, Midwest Book Review
"The underlying lesson about compassion and good stewardship is subtle but effective; an author's note explains the real-life circumstances. Reardon, who also illustrated the penguin-themed Noodles' & Albie's Birthday Surprise (2016), deftly captures the story's charm and expressiveness. ." - Kirkus Reviews
Blue Whale Press, 9781732893566, 40pp.
Publication Date: August 1, 2020