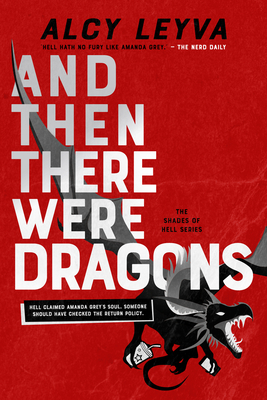 And Then There Were Dragons (Shades of Hell) (Paperback)
Black Spot Books, 9781732935785, 280pp.
Publication Date: July 30, 2019
* Individual store prices may vary.
Description
For Amanda Grey, stopping the all-encompassing Apocalypse fated to plunge our entire existence into never-ending darkness . . . just kind of sucked. Sure, she had managed to capture every demon set loose on New York City. And yes, she ended up thwarting an evil angel's plans to destroy humanity. But she also lost her sister, her apartment, and—oh yeah—Amanda Grey totally died and got her soul banished to hell as a result. Luckily, she's not the type to take that kind of thing lying down. This book thrusts Amanda Grey into a whole new world of weird as she ventures out into the fiery wastelands, decrepit cities, and Olive Gardens of the afterlife in search of her sister and her own redemption. As the penultimate entry in the Shades of Hell Series, Amanda will be coming face-to-face with the truth behind the demon Shades, as well as a destiny she sure as hell didn't ask for.
About the Author
Alcy Leyva is a writer, teacher, and pizza enthusiast. His work has been published in Entropy Mag, Popmatters, Quiet Lunch Magazine, and The Rumpus. He is the author of And Then There Were Crows. He lives in Bronx, New York.
Praise For And Then There Were Dragons (Shades of Hell)…
"Watching [Amanda Grey] face an increasingly wild and wacky battle—one with real-life political resonances—to avert the looming apocalypse is satisfying…a comedic urban fantasy that is both rich and delightful."  —Foreword Reviews
"Leyva lets his imagination run riot, tossing in phantasmagorical terror and absurdity at every turn… And Then There Were Dragons maintains its predecessor's entertaining mix of snarky humor and devilish horror." —Ho Lin, Foreword Reviews