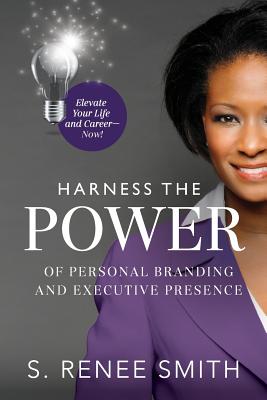 Harness the Power of Personal Branding and Executive Presence (Paperback)
Elevate Your Life and Career Now!
There Is More Inside Publishing by S. Renee, 9781733021906, 158pp.
Publication Date: July 1, 2019
* Individual store prices may vary.
Description
Elevate your life and career starting now.
S. Renee shares her most transforming work that has helped employees at Cigna, Bank of America, and Walmart, collegians at the University of Delaware, and members of the Society for Human Resource Management (SHRM)--to name a few. Her insights have been featured in Woman's World, SHAPE, and OK Magazine and on numerous radio and television shows.
S. Renee Smith simplifies personal branding and demystifies executive presence. With each eye-opening insight, well-illustrated example, compelling story, and exercise, you'll be engaged and inspired as you see yourself, your life, and your dreams take flight.
Brilliantly combining the two most valuable assets, you'll develop--your brand and presence--S. Renee gives readers the strategies she used to land a seat at the table as the youngest member of a university president's cabinet. She also shares over a decade of knowledge from sharing the stage and working with corporate CEOs, mid-to senior-level leaders, and small business owners of multi-million and billion-dollar operations.
Let S. Renee, a certified professional coach, walk you through the process she's used with her clients who have become highly effective leaders and award-winning employees.
You'll learn how to:
- Craft and communicate your brand message. How do you answer the question, "What do you do?" Do you tell people your title? When you do, you don't add value to your cause to impress upon our audience the value you bring. Learn how to answer, "What do you do?" in a way that intrigues people to want to know more about what you do and the problem you can help them solve.
- Leverage your skills, talents, abilities, experiences, and networks for greater success. Have you ever assessed your brand equity? Do you even know what it means? Brand equity includes the tangible and intangible assets you have that position you as an expert. It's what people come to expect from your brand based on your record, relationships, and reputation. You'll assess and measure your brand equity, so you know your brand's strengths and how to best position them.
- Build strategic partnerships to expand your brand. Do you want to create alliances and build partnerships, but you don't know how? It's vital to develop connections that are substantial, influential, and mutual to keep your career or business on a continuous incline. When you consider a partnership, it should be significant for your growth and theirs. The scope of your influence and network should expand, and there must be mutual value. You'll get the strategy on how to identify and build the right partnerships for added credibility and influence.
- Effectively promote yourself to get your audience's attention without being boastful. How do you combine everything you've learned to promote your brand and advance your career? Harness the POWER gives you the wisdom you need to become the expert at the table, the go-to person in the company, or wherever you desire your brand to take you.
Harness the power of your true essence with executive presence and watch your life and career soar.