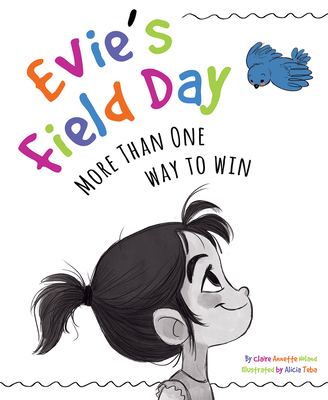 Evie's Field Day
More than One Way to Win
Hardcover

* Individual store prices may vary.
Other Editions of This Title:
Paperback (5/1/2020)
Description
Evie loves to run, jump, hop and most of all - win! In fact, she had a special place in her room for all her trophies and ribbons. Evie couldn't wait to blaze past her classmates on Field Day. So when things didn't go her way, she stomped, scored and downright pouted! Evie was a sore loser, alright. 
When Evie finds herself ahead of the pack and faced with an important decision, will she choose the chance at a trophy or the chance to be a kind friend?
Will she be able to look her past her love of the limelight and stay true to what really matters? Could it be that some things actually feel better than winning?
Join Evie as she navigates the playground and learns about sportsmanship and the challenge of losing.
5 Star Review -  Kindness Wins the Day!
"This is a must-read book to share with children. An engaging story that teaches a valuable lesson about good sportsmanship and kindness. Not only will children be able to relate to the main character Evie, they will also enjoy the fun illustrations." - Verified Amazon Review
The best book for teaching there's more than one way to win.
Evie's Field Day by Claire Annette Noland carries the key message of empathy, winning the right way and good sportsmanship supported by the many advocates of positive parenting solutions. This book comes with a free Reader's Companion for children ages 4-10, complete with discussion questions, lesson plans and activities to go beyond the book. Download your copy direct from the publisher website.
Praise For Evie's Field Day: More than One Way to Win…
"A competitive youth learns the value of kindness over victory. Evie can run, jump, and hop the fastest, highest, and farthest. She also has the "trophies and ribbons" to prove it. Her love of accolades is what makes the upcoming Field Day so exciting. "Zing! Zing! Zip!" When it's Evie's turn at beanbag toss, she misses all three times. Everyone shouts, "Hooray!" for the winner. "Except Evie." Next it's "musical hoops," and even though Evie can hop the farthest, Marty wins. Evie and her friends are largely portrayed in black and white with pops of bright colors in clothing, props, and accessories. The succinct text narrates as Evie attempts more carnival games: balancing a glass of water on her head, running with an egg on a spoon, or a balloon-stomping competition. Despite her best efforts she is still empty handed. Finally her "favorite event—the sack race" provides her a chance. "Evie jumped high, Evie jumped fast. Evie jumped far. She was winning!" Just then a baby bird in the middle of the route forces her to stop and quickly make a choice whether a ribbon or an act of compassion is more important. Teba infuses each scene with charm and energy. Within the black-and-white color schema, Evie has dark hair and medium-toned skin, and her friends are diverse. Resources on fostering sportsmanship follow the story. A lively read-aloud promoting the virtues of sportsmanship." —
Kirkus
"Realistic portrayals of competition and teamwork make this a strong addition to any library." —Rita Christensen, School Library Journal
"A lively read-aloud promoting the virtues of sportsmanship." —Publisher's Weekly
Cardinal Rule Press, 9781733035903, 32pp.
Publication Date: May 1, 2020
About the Author
Claire Annette Noland knows that everyone who reads is a winner. As a children's librarian, reading specialist, and author, she has made it her life's goal to get kids excited about books and reading. Claire lives with her family on a river in central California. Alicia Teba was born in Spain. She has been drawing since she was three and has never stopped. She has been working as an illustrator for Spanish publishers and has also done comics for magazines and stationary designs. This is her fifth book.