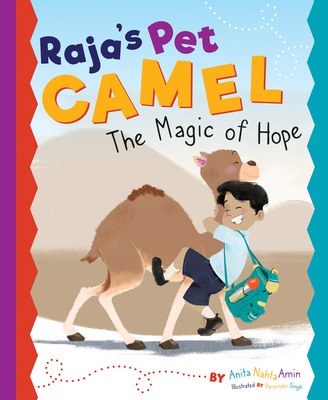 Raja's Pet Camel
The Magic of Hope
Hardcover

* Individual store prices may vary.
Other Editions of This Title:
Paperback (10/1/2020)
Description
Raja had always wanted to have a pet like the happy kids in his school books did. But most yard animals in India worked. They weren't for play. Never-the-less, when Raja stumbled upon a scared, baby camel, he took him home and made him his own pet. 
But it wasn't long before there were smashed pots! Broken fences! And a big mess everywhere! Kamal was a wild camel with wild ways! Raja's father was not pleased. "We don't have time for camels. We're too busy herding goats," he warned.
Raja loved his new pet but his father is fed up with the mess and determined to sell him at the next fair. Will Raja find a way to keep Kamal or will they lose each other forever? This tale of unconditional love and hope is sure to enchant any child!
The best book for teaching the power of empathy and perseverance. 
Raja's Pet Camel by Anita Nahta Amin carries the key message of perseverance, tradition and love supported by the many advocates of positive parenting solutions. It'll sit comfortably on your shelf alongside other books that focus on overcoming obstacles and focusing on hope in the name of love. Like the work of Gaia Cornwall (Jabari Jumps) and Adir Levy (What Should Danny Do?).
This book comes with a free Reader's Guide for children. The guide is available for free download from the publisher website. Lesson plans, activities and discussion questions to allow parents, teachers and caregivers to explore the topic further and deepen comprehension.
Praise For Raja's Pet Camel: The Magic of Hope…
"The exotic setting of Rajasthan, which is located in the Thar desert in northwest India, exposes readers to a different culture. The pictures accurately depict life in Rajasthan. This read-together book shows readers that people from different cultures have strikingly familiar emotional and familial similarities." —City Book Review
"A thoroughly charming and wonderfully fun picture book for children ages 5-8, Raja's Pet Camel: The Magic of Hope by author/storyteller Anita Nahla Amin and artist/illustrator Parwnder Singh will prove to be an enduringly popular addition to family, daycare center, preschool, elementary school, and community library collections for young readers." —Children's Bookwatch
Cardinal Rule Press, 9781733035941, 32pp.
Publication Date: October 1, 2020
About the Author
Anita Nahta Amin is the author of several forthcoming chapter books and many short stories for children. Her work has been featured in a variety of children's literary magazines. This is her first picture book. Her family roots stretch across India from the vibrant camel-filled desert in Rajasthan to the bustling river city of Kolkata. Born and brought up in the Steel City, Jamshedpur, drawing and coloring have been Parwinder Singh's hobby and passion since childhood. Parwinder spent the early years of his career in classical 2D animation but eventually fascinated by the beautiful world of children's books. Freelancing has given him the chance he always wanted to explore more subjects and travel to different places.