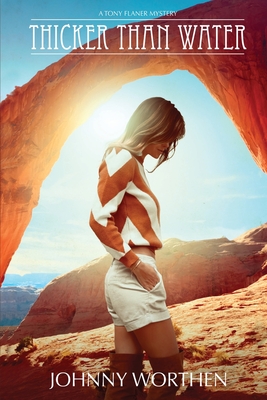 Thicker Than Water (Paperback)
A Tony Flaner Mystery
Dandelion Ink, LLC, 9781733107235, 424pp.
Publication Date: August 22, 2019
* Individual store prices may vary.
Description
Tony Flaner, sarcastic, slacking, sleuth from, THE FINGER TRAP, has given up being a good detective. Now he babysits a pampered dog for a high-strung family and of course that dog is kidnapped right under his nose. He tries to care, really he does, but he can't. He couldn't even if he weren't otherwise distracted by the sudden death of his neglected aunt Vicky hundreds of miles away in scenic Moab, Utah.

To solve her murder, Tony wades into tourist town politics and nagging guilt to unravel hot plots and cold cases. He must learn the secret ways of Nordic Indians, elves and goblins, motorcycle maniacs, tabloid slanderers, yapping dogs, hated rivals, and old loves to find out what's THICKER THAN WATER.