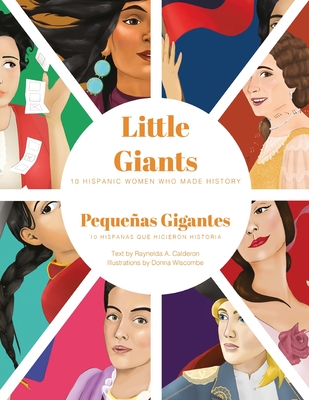 Little Giants
10 Hispanic Women Who Made History
Paperback

* Individual store prices may vary.
Other Editions of This Title:
Hardcover (3/2/2020)
Description
Stories of well known and iconic as well lesser known Hispanic women who fought for the rights of those who had no voice.
Included in this bilingual anthology are the stories of Cuban native Alicia Alonso, who beat the odds and overcame barriers to become a world-famous ballerina; Dolores Cacuango, an indigenous native of Ecuador who fought against the injustice and mistreatment of her people; Elvia Carrillo Puerto, who secured women's right to vote in Mexico; and Salom Ure a de Enrique, who created the first institute for women in the Dominican Republic.
"Little Giants" aims to motivate and inspire our children today to accomplish great things tomorrow, based on the example of role models of past and present.
"Moonbeam Silver Medal recipient"
***********************************************
Algunas de ellas son bien conocidas e ic nicas, y otras son menos conocidas, pero todas las mujeres destacadas en el libro infantil "Peque os Gigantes: 10 mujeres hispanas que hicieron historia" lucharon por los derechos de los que no ten an voz.
En esta antolog a biling e se incluyen las historias de la cubana Alicia Alonso, quien super todos los obst culos y super las barreras para convertirse en una bailarina de fama mundial; Dolores Cacuango, una ind gena originaria de Ecuador que luch contra la injusticia y el maltrato de su pueblo; Elvia Carrillo Puerto, quien asegur el derecho al voto de las mujeres en M xico; y Salom Ure a de Enrique, quien cre el primer instituto para mujeres en Rep blica Dominicana.
Cayena Press, Inc., 9781733139243, 64pp.
Publication Date: October 31, 2020