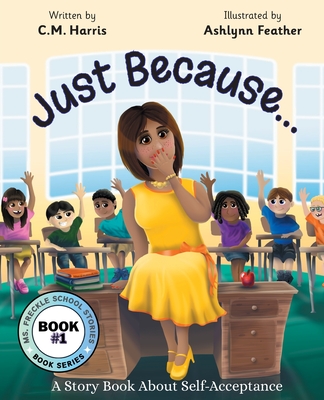 Just Because...
A Story Book About Self-Acceptance
Paperback

* Individual store prices may vary.
Other Editions of This Title:
Hardcover (7/14/2020)
Description
"An important story honoring inclusion, anti-stereotyping, and empathy." Kirkus Review
Book 1 of 3 in the Ms. Freckle School Story Collection Series
A beautiful, positive, and wonderfully illustrated children's story that encourages children not to judge others. Embracing self-acceptance and self-love.
Ms. Freckle has a secret she's worried that her students will laugh at, but the students try to show her there's nothing to fear - or is there?
What could her secret be?
We all have differences, but once you step into the class of Ms. Freckle - the nicest teacher of them all, there's no need to worry Just Because... is a feel-good story about accepting who we are and finding the courage to be who we are despite what others may think. Viewed from the teacher's perspective giving children the realization that adults have insecurities too.
Just Because... embraces the acceptance of ourselves and others while identifying that our circumstances do not define us. Just Because you wear glasses does not mean you're a nerd and Just Because you may be short does not mean you can't play sports. We can do anything
Great book for parents; an exciting and fun school story
Great book for librarians and teachers; reading stories about accepting differences
Great book to discuss disability awareness, friendship, and more
Great multicultural representation of diversity and inclusion
Fun self-reflective activity inside
Purple Diamond Press, 9781733152402, 32pp.
Publication Date: April 7, 2020