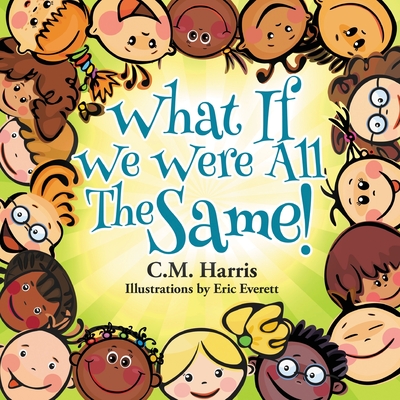 What If We Were All The Same!
A Children's Book About Ethnic Diversity and Inclusion
Paperback

* Individual store prices may vary.
Description
"What If We Were All The Same is an inspirational and warm celebration of the differences in all living things..."
2020 BIBA(R) Children's Winner
Featured on BBC CBeebies Lunchtime Stories (2020)
Finalist in the 14th Annual National Indie Excellence(R) Awards (2020)
2020 Gold recipient of the prestigious Mom's Choice Award
Award Winner in the 2019 Children's Picture Book Category by American Book Fest
What If We Were All The Same embraces all of our beautiful differences. Aimed to help children understand there are many great reasons for being friends with those who are different than they are. Whether they have red hair or brown hair, green eyes or blue eyes, long legs or short legs, light skin or dark skin, glasses, uses a wheelchair, or anything else, it's absolutely OKAY Our differences are what makes us unique and if we truly think about it, would you want to be the exact same as someone else?
What If We Were All The Same is fun-filled with rhymes and colorful illustrations, brings attention to tough topics children can relate to.
Great book for parents; conversation starter to discuss prejudices and racism to kids
Great book for librarians and teachers; school introduction or back-to-school reading
Great book to discuss friendship, acceptance, empathy, bullying, and more
Great multicultural representation of diversity, inclusion, and acceptance
Purple Diamond Press, 9781733152471, 28pp.
Publication Date: November 5, 2019