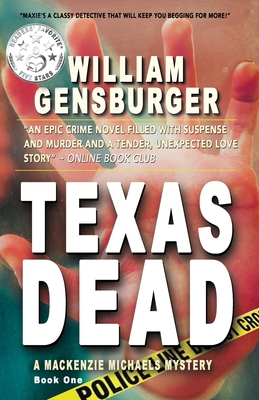 Texas Dead
A Mackenzie Michaels Mystery
Paperback

* Individual store prices may vary.
Description
"This is a fast-paced exciting book that takes place in Corpus Christi, Texas. I really did enjoy this book. It has a solid mystery and a blooming romance. There is also comic snark between detectives Michaels and Jameson that breaks up the high drama of the story. I can't wait for future books in the series." Mollien Fote Osterman
"I think you wrote a fast moving story that will appeal to many people. It sort of reminds me Robert B Parker's Spenser stories." Patricia Marschall
SYNOPSIS:
A series of murders in Corpus Christi leaves residents uneasy. All the victims were shot in the back of the head. But when a prominent financial genius is also found murdered, and not in the same way, celebrity detective Mackenzie 'Maxie' Michaels and her partner Kobe Jameson, must race to find the person responsible before more murders occur. As they uncover clues, the mystery deepens, dragging in powerful people, and threatening to erupt in a full-on war.
Alt Publish, 9781733245944, 286pp.
Publication Date: June 1, 2021