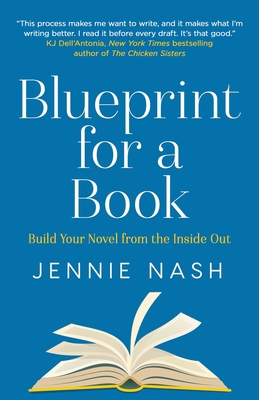 Blueprint for a Book
Paperback

* Individual store prices may vary.
Description
How to write a novel in the most efficient way by tackling the hardest part before you start to write, from top book coach Jennie Nash
"This process makes me want to write, and it makes what I'm writing better. I read it before every draft. It's that good." -KJ Dell'Antonia, New York Times bestselling author of The Chicken Sisters
Whether you're writing your first novel or your tenth, there is a temptation to pin it to the page before it disappears. It's such a brilliant idea and you can see the whole thing shimmering in your mind, just out of reach. Maybe you do some work on character development and plotting, but you're a racehorse at the gate, ready to run, ready to write.
This book is an argument to stop and define the foundational elements of your story before you keep writing - which means understanding your motivation as a writer, considering your reader's expectations, and making sure your story has a solid structure that will hold up inside and out from beginning to end. This clarity is what gives a novel its power and a writer their confidence.
Jennie Nash is the creator of the Book Coach Certification program at Author Accelerator and has taught hundreds of book coaches and thousands of novelists how to use the Blueprint for a Book system-and the Inside Outline at the heart of it - to help them produce their best work in the most efficient way.
"Jennie Nash turned me into a plotter and changed the way I think about approaching any new project. I'm an Inside Outside outline fan for life " -Alison Hammer, author of You and Me and Us and Little Pieces of Me
"If you are about to start writing or revising your novel - hold up You need this book before putting fingers to keyboard. It's a step-by-step design-your-novel manual that encapsulates the most important aspect of great story-telling: how to reach deep into your writerly heart and into the heart of the story you want to bring to life." - Janet Fox, author of The Artifact Hunters
"I will sing the praises of the Inside Outline forever. It's f*ing genius." -Carla Naumburg, author of How to Stop Losing Your Sh*t With Your Kids
"The Inside Outline is making writing easier. I can focus more on the writing rather than discovering what the scene is about when I'm creating it. Why isn't every writer using it? Instead, people are plonking down good money to be told ten key steps in writing dialogue or setting a scene. I'm so grateful I'm no longer one of them." - Kate Kimball, first time novelist
Tree Farm Books, 9781733251129, 142pp.
Publication Date: September 1, 2021