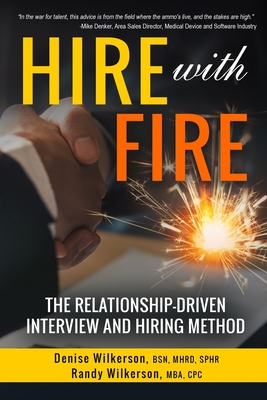 HIRE with FIRE (Paperback)
The Relationship-Driven Interview and Hiring Method
Dandyworx Productions, 9781733261104, 166pp.
Publication Date: November 22, 2019
* Individual store prices may vary.
Description
Is there a correlation between finding your perfect soul mate and finding the perfect people to work for your company?
How does a candidate's interview experience impact your employer brand? Will their experience influence your ability to attract top talent in the future?
Read More in this Inspiring Hiring Book and Interview Guide for Managers
HIRE with FIRE is an inspiring hiring book about how to interview people and how to hire the best people. It provides insight into the mind of the candidate and acts as an interview guide for managers hiring talent. This hiring book is also a manager's interview guide to a relationship-driven interview and hiring process. The processes discussed are designed to improve the candidate experience, teach you how to interview, how to hire the best people, build your employer brand and create an engaging work culture.
Learn How to Interview People and How to Hire the Best People
Offering great interview questions to ask before you hire, Hire with Fire will teach you how to hire the best people who are "on fire" for your company. As a manager, your goal is to hire the best person with the key skills and abilities to perform the job well. However, it may be equally important to hire someone who is passionate about their work. Employees who are passionate, "on fire," and engaged are typically high achievers and top performers who can positively impact your company's culture, potential for growth and your bottom line.
Discover Four Key Traits to Help You Hire the Right People
The authors discuss relationship-driven interview and hiring methods and four key traits to help you determine if a candidate is the right fit for your company. By using their interview methods, you will hire the best people who are also engaged and passionate about their work. By comparing the hiring process to a personal relationship, the HIRE with FIRE method will help you view hiring from a broader human relationship perspective. The authors' insight, as well as comments from leading management professionals, will help you build successful relationships with both candidates and future employees that will benefit your company for years to come.
Improve the Candidate Experience and Build Your Employer Brand Management
HIRE with FIRE also teaches managers and human resource professionals how to improve their employer brand management by enriching the candidate experience during the interview and hiring process. Through their relationship-driven approach, the authors discuss interviewing and hiring methods that will enhance your employer brand and create a great working relationship with every candidate you interview, not just the people you hire.
Employee Engagement: How to Attract, Engage, and Retain Top Talent
Denise and Randy bring a human touch to human resources and the hiring process. Their personal stories, along with their interviewing and hiring methods, will help you build great working relationships with the people you interview, hire and supervise. Through the relationship-driven interview and hiring method, you will learn new strategies to help attract top talent, retain top performers and create engaged employees.
Why HIRE with FIRE
Whether you are a CEO, an HR manager, experienced or new to hiring, HIRE with FIRE will show you how to hire engaged people who will set your team and company on fire. This is not a book filled with compliance issues and various other complexities - it's a hiring book about human interaction, instilling hope, and igniting passion in yourself and others.
Sit back, relax, enjoy the fire and prepare to revolutionize the way you think about interviews and the hiring process.
https: //www.hirewithfire.com