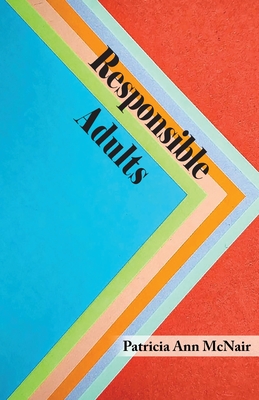 Responsible Adults
Paperback

* Individual store prices may vary.
Description
In Responsible Adults, farms fail, families break apart, and work is hard to come by. The characters in Patricia Ann McNair's fictional Midwestern towns are fueled by grief and hope, loss and desire. A stepfather attacks a neighbor boy for exposing a shameful secret to his stepdaughter. A pregnant, undocumented young woman brings new life to a failing church. A mother uses her reluctant adolescent daughter as a model for her art photography. What happens when responsible adults are anything but responsible people? When they are at best, irresponsible, and at worst, dangerous?
Praise For Responsible Adults…
"Responsible Adults is devastating, in the best possible way. McNair guides us through domestic worlds where we might fear to tread alone, revealing truths and exposing worlds peopled with want, kitchens with empty refrigerators and strange men. Children eat grape jelly with a spoon and long for ordinary lives as they negotiate adult problems as best they can. Readers are wiser and more compassionate for knowing these stories."
—Bonnie Jo Campbell, author of American Salvage
National Book Award finalist

"In her piercing collection, Patricia Ann McNair confronts those charged with caring and protecting us, and who are—indelibly—responsible for what we become. The stories in Responsible Adults pull at the tether that winds from children to their parents, from wife to husband, from sister to brother, from stranger to stranger—always, it seems, on the verge of snapping. A young daughter charts the unsuccessful, often abusive, dating life of her widowed mother; an adult son perpetually listens for his father's voice inside a can of beans; a daughter communicates her pain through messages on her estranged father's answering machine; a substitute teacher tries to connect with a grieving student; a widowed minister takes in a young and pregnant stranger. In a small Midwestern town, McNair's characters teeter between absence and yearning, stagnancy and change. Always, she treats them with compassion and care. Responsible Adults is bursting with gorgeous, gutting stories."
—Sahar Mustafah, author of The Beauty of Your Face

"Patricia Ann McNair's Responsible Adults is a journey to a land where adults have let their wounds define them, forcing the children to become their own heroes. I read this gripping collection with my seatbelt tight, barreling from desperation to hope, danger to redemption, struggle to peace. There are writers who allow you to keep a safe distance from the lives of their characters. And there are writers like McNair, whose stories fly so low to the truth, you are thankful you can read them safely from 30,000 feet."
—Desiree Cooper, author of Know the Mother
Pulitzer Prize nominated journalist

"With startling honesty, precise observation, and a deep faith in the beauty of language, Patricia Ann McNair creates a world where the so-called adults in the room abandon, lie, cheat, steal. They're familiar, these faults, you think as McNair traces the delicate cracks and gaping chasms of the human condition, her gaze unflinching, unnerving, watching as opposing forces collide, unleash catastrophe. Especially then. Who, she seems to ask, is left behind and why turn away? In this remarkable collection, McNair hits her writerly stride with a sureness that is nothing less than breathtaking."
—Christine Maul Rice, author of Swarm Theory

"Have you ever read a book with characters so real, so present, it feels like they're in the same room with you? It's a feat of alchemical magic and McNair is the sorceress here. In these pages, you'll lock eyes with people on the margins, bent and bloodied—but not broken, never broken. You know who these people are. You see them on the street, at your job, out your window, and in your mirror."
—Giano Cromley, author of What We Build Upon the Ruins and The Last Good Halloween
"In this devastating collection, McNair's stories deftly untangle the precarious cords of intimacy, revealing how the deepest of injuries are inflicted. Teeming with accidents and absence and cut-throat consequences, McNair's struggling adults are not enough and too late, and vulnerable children are resilient and resourceful by necessity. In gripping, aching prose, soda spills and ruins shirts, cars crash in reverse, voicemails pile up, names are scratched in frost, families split in an instant, irrevocably. These stories are not alarming because they're dangerous, they're alarming because they're familiar. This is one hyper-perceptive, fiercely honest, heart-expanding collection."
—Kate Wisel, author of Driving in Cars with Homeless Men
Drue Heinz Literature Prize winner

"The compression of the prose, its honesty and quiet intensity, earmarks a voice I find in Patricia Ann McNair's Responsible Adults to be mesmerizing, irresistible, a graceful on-key edginess that propels each story forward. If justice were served, this collection would stand among the best as reason enough to increase the readership for short fiction. It delivers that kind of punch, compassion, and staying power."
—Jack Driscoll, author of The Goat Fish and the Lover's Knot
Cornerstone Press, 9781733308649, 202pp.
Publication Date: December 10, 2020
About the Author
Patricia Ann McNair has managed a gas station, served as a medical volunteer in Honduras, sold pots and pans door to door, tended bar and breaded mushrooms, worked on the trading floor of the Chicago Mercantile Exchange, and now teaches in the English and Creative Writing Department of Columbia College Chicago. She is the author of the award winning collection The Temple of Air.