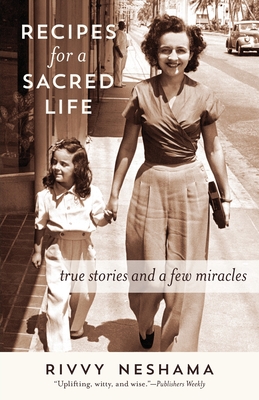 Recipes for a Sacred Life
True Stories and a Few Miracles
Paperback

* Individual store prices may vary.
Other Editions of This Title:
Digital Audiobook (5/23/2022)
Hardcover (5/5/2020)
Description
Winner of 5 national awards, this new, expanded edition was named one of "The Best Spiritual Books of 2020" by Spirituality & Practice.
"Recipes for a Sacred Life left us moved--and changed. Wise, poignant, funny, and inspiring."--Redbook
ON A DARK WINTER NIGHT with little to do, Rivvy Neshama took a "Find Your Highest Purpose" quiz. And the funny thing was, she found it: to live a sacred life. Problem was, she didn't know how.
But she set out to learn. And in the weeks and months that followed, she began to remember and encounter all the people and experiences featured in this book--from her father's jokes to her mother's prayers, from Billie in Harlem to a stranger in Salzburg, and from warm tortillas to the humble oatmeal. Each became a story, like a recipe passed down, beginning with her mother and her simple toast to life.
NESHAMA'S TRUE TALES, a memoir of sorts, are filled with love, warmth, and timeless wisdom. They ground us, and they lift us up. They make us laugh, and they make us cry. And most of all, they connect us more deeply with the grace and meaning of our lives.
"Exquisite storytelling. . . . Written in the spirit of Elizabeth Gilbert or Anne Lamott, Neshama's stories (and a few miracles) are uplifting, witty, and wise."--Publishers Weekly
"Rivvy's bite-sized stories will make you nod with deepest knowing. It's a magical companion."--HuffPost
"Wouldn't it be wonderful if there was a guide to happiness? Recipes for a Sacred Life is the closest thing I've found. Powerful. Inspiring. About adding love and joy to the everyday."--First for Women magazine
Sandra Jonas Publishing House, 9781733338615, 258pp.
Publication Date: May 5, 2020