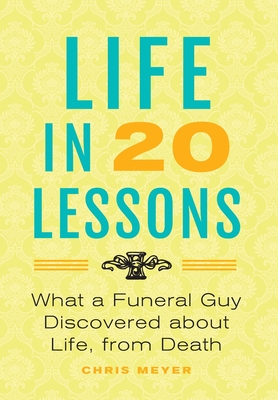 Life In 20 Lessons (Hardcover)
: What A Funeral Guy Discovered About Life, From Death
Meaning of Life Publishing, 9781733344319, 234pp.
Publication Date: August 20, 2019
Other Editions of This Title:
Paperback (8/21/2019)
* Individual store prices may vary.
Description
If you could fast forward your life to your deathbed and hear your regrets (and joys), then rewind and live your life with that knowledge, would you do it? This book provides that knowledge. After fourteen years in the funeral business, Chris Meyer has sat with families and listened to their "could'ves," "should'ves," and "would'ves." In doing so he learned many lessons--lessons that kept repeating themselves year after year.
Meyer knew he could help a lot of people with this information. So he sat down and memorialized the lessons he learned to share with the world: some simple, some profound, some irreverent. Lessons from life, from death, from surviving. But make no mistake, this is NOT a story about dying...this is a story of living. This is...Life in 20 Lessons. Poignant. Funny. Filled with love.
About the Author
For the last fourteen years, Chris has been a funeral homeowner. In addition to learning many things about love, loss, and life, his entrepreneurial spirit drove him to create two other funeral homes from the ground up. In doing so, he obtained fourteen loans over a ten-year period. As he was assembling yet another loan package for a bank one day, he thought there has got to be an easier way. He created a prototype and showed it to a friend. Together they built www.magillaloans.com, an anonymous loan search engine that educates and empowers all borrowers in the loan process.

Meyer has a Juris Doctorate and Master's in Environmental Law (Magna Cum Laude) from Vermont Law School and a BA in Politics and History from Brandeis University. He has been a licensed New York State attorney for over twenty-four years.

Prior to his funeral life, he wrote, directed, and produced a low budget film called "Black is White". The feature length, race relations drama was written up in Variety as the film to watch from the Independent Feature Film Market in New York City. It was one of twelve international films chosen for the Rome Film Festival. When the film wasn't chosen for Sundance, Meyer loaded up his car and moved to Hollywood to become a screenwriter. He made a living as a production assistant working for Herb Ritts, the premier fashion photographer of his time and on various studio lots.

He has been married for over eighteen years and enjoys coaching his sons in every sport. He is also a member of the Kiwanis Club and Chamber of Commerce in his community.