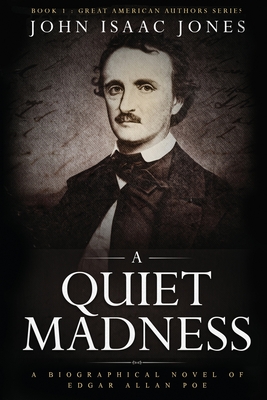 A Quiet Madness
A biographical novel of Edgar Allan Poe
Paperback

* Individual store prices may vary.
Other Editions of This Title:
Hardcover (8/25/2020)
Description
Edgar Allan Poe lives once again within the pages of John Isaac Jones' new work of historical fiction.
His time - 1810-40s America; Lewis and Clark have returned; the Monroe doctrine takes effect, the War of 1812; Andrew Jackson's tempestuous presidency; the train, the steamship and the graphite pencil were still being improved; the Mexican-American War, the trail of tears, the California gold rush.
His loves - His frail, devoted stepmother who tried to protect him against his cruel stepfather; Jane Stanard, his stepmother's best friend who initiated him first into poetry, then into manhood; the violet-eyed mysterious Lenore whose death inspired The Raven; Virginia Clemm, his first cousin and great love of his life whom he married one day after her 13th birthday.
His genius - Edgar Allan Poe, short story writer who penned the horror classics The Tell-tale Heart and The Cask of Amontillado; author of the poems The Raven and Annabel Lee and the man who single-handedly created the detective mystery genre with Murders in the Rue Morgue.
These pages deliver a compelling portrait of one of the greatest men of letters who ever lived.
John I. Jones, 9781733350099, 432pp.
Publication Date: August 25, 2020