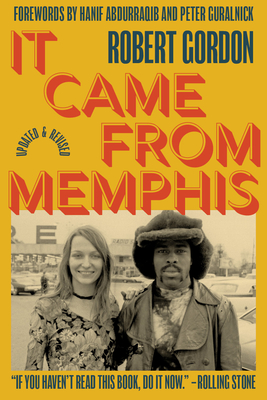 It Came from Memphis
Updated and Revised
Paperback

* Individual store prices may vary.
Other Editions of This Title:
Paperback (11/1/2001)
Description
Vienna in the 1880s. Paris in the 1920s. Memphis in the 1950s. These are the paradigm shifts of modern culture. Memphis then was like Seattle with grunge or Brooklyn with hip-hop--except the change was more than musical: Underground Memphis embraced African American culture when dominant society abhorred it. The effect rocked the world. We're all familiar with the stars' stories, but It Came From Memphis runs with the the kids in that first rock and roll audience, where they befriended the older blues artists, the travails of blazing a rock and roll career path where one had not existed (nor did society welcome it), and the adventures--sometimes drug-fueled, often accidental, always pushing the envelope--that epitomize the rock and roll experience. Stars pass through--Elvis, Aretha, Jerry Lee--but the emphasis is on the singular achievements of Alex Chilton, Jim Dickinson, Furry Lewis and wrestler Sputnik Monroe. This is a book about the weirdos, winos and midget wrestlers who forged the rock and roll spirit, unwittingly changing the fabric of America. Music liberated that Memphis audience, and the world followed.
Third Man Books, 9781733350150, 392pp.
Publication Date: November 10, 2020
About the Author
Robert Gordon is a writer and a filmmaker, a Grammy winner and an Emmy winner. He's a native Memphian who has been exporting the city's authentic weirdness since long before his first book, It Came From Memphis (1995). He's been nominated for six Grammys; his win was for the liner notes to the Big Star box set Keep an Eye on the Sky. His Emmy was for Best of Enemies, the 2015 documentary about Gore Vidal, William Buckley, and the demise of civil discourse in America. He's not the rockabilly singer, he's not author of Deep Blues, and he's not the university in Scotland. He lives in Memphis. TheRobertGordon.com