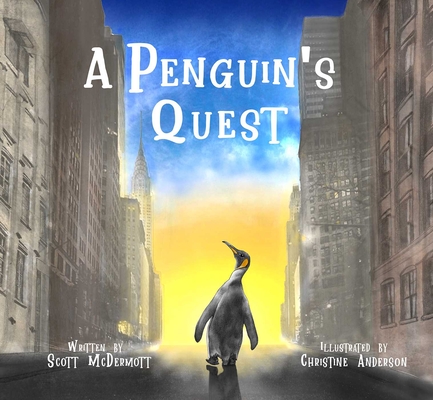 A Penguin's Quest
Hardcover

* Individual store prices may vary.
Description
Take a journey with Ingrid the penguin as she ventures from her home in Antarctica in search of a mythic place where it's said a penguin can learn to fly.

On the advice of some seriously lost pigeons, our young protagonist sets out determined to accomplish something never imagined before for a penguin. Along the way we meet some surprising and colorful characters, making this a truly engaging adventure about chasing a dream. The mystery of Ingrid's destination holds the answers as this little penguin is on the verge of a discovery that could rock the penguin world.
Praise For A Penguin's Quest…
"A Penguin's Quest, is all about believing and the determination to follow a dream no matter how difficult it might appear. This story will enthrall young readers of all ages … a powerful and engaging story that will both teach and entertain. Loved it."  —Emily-Jane Hills Orford / Readers Favorite 5 Stars

"An adorable story that made me feel like a child again with its cute and funny choice of language, like "penguin traffic" and "Ms. Penguin Lady" … entertaining, motivational, and educational, A Penguin's Quest is highly recommended for your children. It's easy to love this endearing picture book!" —Foluso Falaye / Readers Favorite 5 Stars

"Engaging, with deft characterization and low-key humor … there is just enough impossibility to keep the reader's disbelief suspended … rich in interest, information, and life lessons, leavened with wonder…the second-best thing about this book is the fine balance of its elements. The best thing about it is the ending. I recommend to anyone who knows a curious child – or just likes penguins and enjoys a good story." —Francis Mont / Readers Favorite 5 Stars

"Invigorating…largehearted…A Penguin's Quest is a spirited picture book in which an unconventional penguin's daring decisions inspire her friends."  —Foreword Reviews

"A beautifully illustrated and appealing animal tale that underscores defying odds and helping others. McDermott's engaging story features commendable instances of following a passion, learning from new friends, and embracing rewarding challenges. Anderson's lovely illustrations offer realistic renderings that emphasize unusual textures, shades, and tones." – KIRKUS REVIEWS
Notable Kids Publishing, 9781733354851, 40pp.
Publication Date: February 2, 2022
About the Author
Scott McDermott grew up in Switzerland, backpacked through the American West, and trekked the Himalayas before spending the last 20 years as a commercial photographer and filmmaker. Having photographed many of the most creative minds in Hollywood, the music industry, and government, Scott also produced the "Scar Stories" portrait series and the highly acclaimed "Mandela Day" project, capturing the hands and faces of those who support Nelson Mandela's message. Recently he started writing children's fiction, inspired by the stories he made up to tell his own children.

Christine Anderson is a Senior level Illustrator and Surface Pattern Designer based in Scottsdale, Arizona.  She received a BFA in Graphic Design/Illustration from Drake University and has worked in commercial design for over twenty years. Though she had a successful career as a muralist and furniture designer, as well as being commissioned by corporations such as Learnin' Tree, American Express, Hobby Lobby, Trader Joe's, Michaels's, QT Fabrics, and Boston International, Christine longed for her drawing board. She decided to refocus and get back to her true love, illustrating, with children's books being part of her journey. Christine prefers to render her detailed illustrations in graphite, while bringing her work to life using acrylics and watercolor. To Christine, art is a creative process that is ever changing, growing, and with no end. As an accomplished artist, she loves learning and evolving by pushing, pulling, and stretching her abilities and her craft.