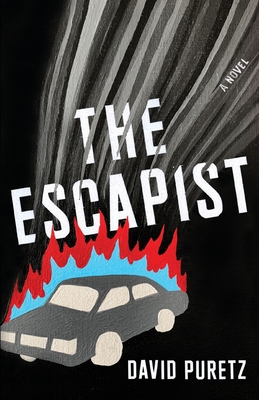 The Escapist (Paperback)
Global City, 9781733359917, 312pp.
Publication Date: January 28, 2020
Other Editions of This Title:
Hardcover (1/28/2020)
* Individual store prices may vary.
Description
When escape becomes a first line of defense, is it possible to ever face life's harsh realities? In his debut novel, The Escapist (Global City Press, January 28, 2020), David Puretz details one young man's seemingly never-ending quest for his missing father. Weaving topics like mental health, family conflict and abuse, drug addiction, and sexuality throughout a frame narrative structure, Puretz delves into the internal and external calamities that shape the human life and mind.
The only thing protagonist Billy Chute excels in is escaping. After finding that his father has escaped his own life and disappeared, Billy quits his job and sets out to find him. But what he may really be searching for is a path to free him from his past and give him a purpose and future.
More than a story of self-discovery, The Escapist takes an intimate look into the psyche of an unlikely protagonist. Billy turns to writing as he travels the country, and uses writing, in part, as a way to heal, make sense of things, and forgive. Within the narrative, he explores the adversity of family and self, desperate to create his own identity, but drug addiction and the lasting effects of past abuse take him deeper into an escape than he ever could have imagined.
"Sizzling, a brilliant work of imagination...unflinching in its depiction of our culture and political moment...with the relevance and pace of Kerouac's On the Road and the psychological brutality of Golding's Lord of the Flies."
- Michelle Yasmine Valladares, MFA Program Director at The City College of New York, author of Nortada, The North Wind, and the AMERICAS Poetry Festival's Poet of the Year.
"A perfect time in our country for the return of the anti-hero. So many young men begin an odyssey into adulthood only to find that the past, usually in the form of a father, is both the catalyst forward and the keeper of a locked gate to the future. The goal becomes not salvation but survival. David Puretz's debut novel alternates between life's realistic blows and a hallucinatory journey that may be his only route to selfhood."
- Linsey Abrams, author of Our History in New York, Double Vision, and Charting by the Stars.
"Author David Puretz has created a highly literary and poignant work that tells many tales through its single-character narrative... The Escapist is an accomplished work worthy of great praise, both for its excellent writing style and its apt perspective on our current sociopolitical time."
-- Readers' Favorite 5-Star Review
"Crisp, clear, and electrically charged, The Escapist is a burst of much needed vitality blowing through the miasma of late capitalism's nihilism and hypocrisy."
-- Brendan Kiely, New York Times bestselling author of Tradition
"The Escapist is a fast-paced novel about the miserable American road trip, sleeping outside of diners, failing to connect with hostile strangers and family members alike, and missing natural beauty for the chemical sunrise at the bottom of a pill bottle. Raising complicated questions about the nature of control, and drawing bold lines between state violence, family trauma, and self abuse, David Puretz has crafted a gut punch of a road novel for anyone who ever wondered what drove Hunter S. Thompson to drugs, and made Jack Kerouac want to leave it all behind for a dotted highway line."
- Chris L. Terry, author of the novels Black Card and Zero Fade