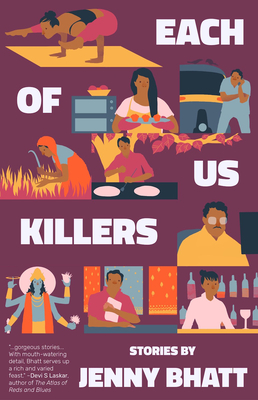 Each of Us Killers (Paperback)
7.13 Books, 9781733367264, 180pp.
Publication Date: September 8, 2020
* Individual store prices may vary.
Description
Fiction. Short Stories. Asian & Asian American Studies. Set in the American Midwest, England, and India (Mumbai, Ahmedabad, rural Gujarat) the stories in EACH OF US KILLERS are about people trying to realize their dreams and aspirations through their professions. Whether they are chasing money, power, recognition, love, or simply trying to make a decent living, their hunger is as intense as any grand love affair. Straddling the fault lines of class, caste, gender, nationality, globalization, and more, they go against sociocultural norms despite challenges and indignities until singular moments of quiet devastation turn the worlds of these characters--auto-wallah, housemaid, street vendor, journalist, architect, baker, engineer, saree shop employee, professor, yoga instructor, bartender, and more--upside down.
"Jenny Bhatt's gorgeous stories in EACH OF US KILLERS remind me why I love to read a good book. It is such a pleasure to be immersed in the worlds of her characters, in their hunger for love or money, and in their local and global struggles to live. With mouth-watering detail, Bhatt serves up a rich and varied feast."--Devi S. Laskar
"The potent stories in this collection evoke the complexities of a shifting, multilingual world with great precision. Bhatt moves between countries and realities with tremendous skill and insight."--Idra Novey
"In a series of thrilling, beautiful stories, Jenny Bhatt moves through the moods, thoughts, subversions involved in the experience of interracial relationships, East-West communications, theft, justice, migration. The collection works brilliantly both as an evocative amalgam of insightful observations about race, class, gender, aspirations, as well as on the sentence level. Bhatt writes, 'polish it carefully, till it glitters with the hope of a false diamond and refracts your stark life into a spectrum of luminous rays, lighting up the darkness briefly'--referring to a character's particular memory, but could just as well be referring to the collection as a whole."--Chaya Bhuvaneswar
"In EACH OF US KILLERS, Jenny Bhatt excavates her characters with incisiveness, nuance, and complexity. The cast of vibrant characters in this wonderful collection is absolutely unique and memorable."--Karen E. Bender
"This is a gorgeous collection. Bhatt weaves together, with the lightest touch, profound themes--work, ambition, displacement, class, and gender, and so much more. Her plots are beautifully rendered and her scope vast; her characters and her settings come to life on the page. These stories are full of bitter heartbreak with a measure of joy--a wonderful collection from a hugely talented writer."--Lydia Kiesling
"These stories are filled with wisdom and compassion, bristling with dark occurrences and gleaming with quiet moments of joy: an enriching collection."--Mahesh Rao
"Moving, haunting stories that explore a wide range of complex social inequities and yet share an undercurrent of a deep and very human kind of longing."--Aatif Rashid
"Sex, death, redemption, betrayal--this collection has it all, from the sordid to the divine. Bhatt's vivid imagination and well-voiced characters will take you on a ride you won't soon forget."--Mathangi Subramanian
"EACH OF US KILLERS offers up a complex portrait of our times. From caste-based violence to domestic power play, from yoga to the under-seam of real-estate development, Bhatt uses a dozen devices to examine the lives of people around us, the choices that define them and, ultimately, our selves."--Annie Zaidi
"Ambitious, sensitive, this collection locates some essential Indian truths, especially its hidden violence."--Prayaag Akbar