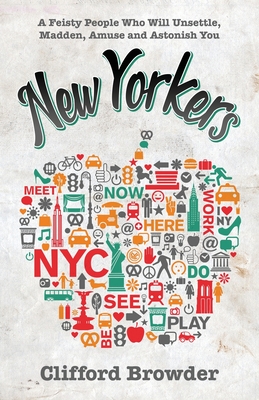 New Yorkers (Paperback)
A Feisty People Who Will Unsettle, Madden, Amuse and Astonish You
Clifford Browder, 9781733378208, 352pp.
Publication Date: January 19, 2020
* Individual store prices may vary.
Description
Clifford Browder's New Yorkers is the quirky memoir of a longtime resident who loves his city, a selective glance at that city's amazing history, and a bit of a travel book, all rolled into one. It's for people who love (or hate) the city, and people who have visited or want to visit it. Readers will learn
- Who New Yorkers are and how they live and die
- How many languages are spoken there (you'd be surprised)
- How many witches there are (you'd be surprised)
- Whose funeral caused an all-day riot
- Why a cemetery offers trolley-car tours and whiskey tastings
- How Fifth Avenue went from goats to grandeur
- How your taxi driver may be a Tibetan, a Sherpa from Nepal, or a gypsy
- How the Statue of Liberty almost didn't happen
- Which flashy modern hotel would-be suicides should avoid at all costs, and why
- How the author learned the Charleston on YouTube, proof that geezers rock.
New York is the most exciting city in the world. Everyone should know it, at least a little. It's unique.