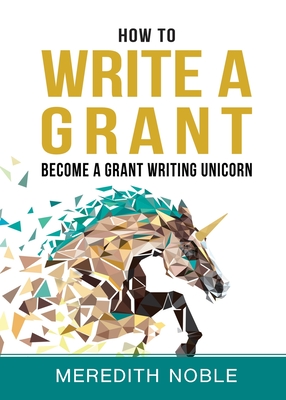 How to Write a Grant
Become a Grant Writing Unicorn
Paperback

* Individual store prices may vary.
Description
Grant writers are by nature community changemakers. They are the 20% doing 80% of the work. They are the quiet leaders, knowing how to build teams, forge community partnerships, and develop ideas into well-planned projects.
Grant writers put heart and soul into everything they do. They work on things that matter. They want to have an impact and better their communities.
Before grant writers become known for their craft, however, they started with an idea and plenty of ambition. Those that succeeded took the time to learn the art of grant writing. Armed with this skill set, they were empowered to achieve their broader vision.
If this sounds like you, then you have come to the right place. What you will soon have in your hands is a distillation of the most important information you need to know about grant writing.
The book is structured with the first half answering the questions I am most frequently asked. The second half follows with the questions I wish you were asking. The book covers topics like:
How to write a grant in seven steps,

How to write a convincing narrative,

Where to find grants to go after,

How to avoid running out of time when applying,

Where to find match funding, and

How to prepare a grant budget (with bonus access to a free budget spreadsheet template ), and more.
This book will fast track your learning curve to become a talented grant writer. In addition, you will receive downloadable templates and discount access to our online grant writing courses.
Make grant writing your super power
"The book, 'How to Write a Grant' breaks down the complexity of grant writing so that anyone can learn to be a professional. It's refreshingly straightforward with a modern approach. As someone who works in grants day in and day out, I highly recommend." Gauri Manglik, CEO & Co-founder, Instrumentl
"As a busy Executive Director and mom of 3, I rarely find time to physically go to grant writing workshops. Meredith's book was the perfect answer to upping my grant search and writing game. Her style of writing is informative and easy to digest...Her extensive experience in the non-profit world was evident with her examples. I encourage any new or experienced grant writer to pick up a copy like I did. You are guaranteed to learn something valuable " - Calisa Kastning, Executive Director SkiKu
"I have been involved in grant writing for over 15 years and have read a lot of different grant writing books. Meredith has written one of the easiest books to read, it is fun and informative. She gives incredible advice, tools and resources beginning in the first chapter. The overall book is funny and engaging while providing the reader with the information needed to start, or continue, their grant writing career. The tools she includes, for free, are some of the best I have seen." - Pamela Graham, Matanuska-Susitina Borough
"I got lucky I had two grant applications to write seeking funds to continue an international art project. Both deadlines were coming up soon. I had already made a bunch of notes and had a (weak) draft narrative when I started reading Ms. Noble's book. Her insightful tips and her stress on a step-by-step approach provided exactly the breakthrough I needed to whip my grant into shape...I produced a document so obviously superior to what I would have on my own..." - Amazon Customer
Senecaworks LLC, 9781733395700, 172pp.
Publication Date: September 30, 2019