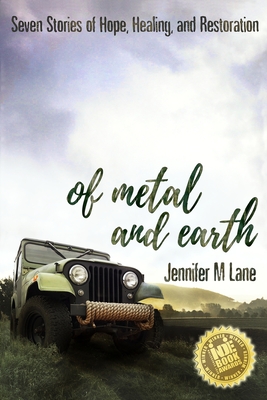 Of Metal and Earth
Paperback

* Individual store prices may vary.
Description
Seven ordinary lives are changed by their extraordinary relationships with a little green Jeep in Of Metal and Earth, a tale of restoration and redemption.

James survives a fierce Vietnam battle by hiding beneath his Jeep. He loses his friends and returns home alone, surviving the town's pity by hiding in the bar. Emotionally scarred, he only finds the determination to lift himself up when he realizes what remains to be lost. He buys a little green Jeep, like the one that gave him shelter in the war, and hopes it will lead to salvation again. But the fortune it brings tarnishes, and James is left to sacrifice the thing that gave him hope for the people who need him most.

Over the next thirty years, the Jeep changes hands, passing between friends, family, strangers, and lovers. A single mother who buys a car for her reckless son nearly destroys a friendship with a man who silently loved her for two decades. An insecure youth at the start of his career learns that the most important lessons are the ones you never set out to learn. A family torn apart by their differences finds that love can be the hardest road to take. And a city architect must choose between the easy way to restoration or a difficult path that could save more than a rusty old Jeep.

Readers of Mitch Albom, Nicholas Sparks, Jeep owners everywhere, and viewers of This is Us will enjoy this heart-warming tale of restoration and redemption, a must read book for anyone inspired by the resiliency of the human spirit.

Winner of the 2019 Next Generation Indie Book Award for First Novel. Finalist in the 2018 IAN Book of the Year Awards in the category of Literary / General Fiction

"I am sitting here trying to find the words to convey what an absolutely incredible novel this is...The writing was flawless...I can't think of a specific audience that would enjoy this novel, it is simply a must-read for everyone." - Dandelions Inspired
Pen and Key Publishing, 9781733406871, 306pp.
Publication Date: November 22, 2019