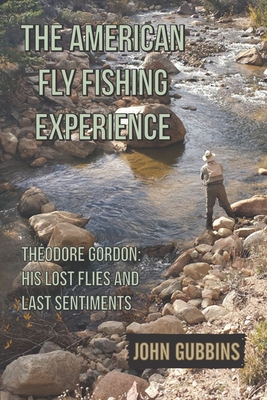 The American Fly Fishing Experience
Theodore Gordon: His Lost Flies and Last Sentiments
Paperback

* Individual store prices may vary.
Description
"The American Fly Fishing Experience" brings to light Theodore Gordon's private life and his lost fly fishing inventions. It is the only book to do so."The American Fly Fishing Experience" sticks close to the stories Theodore Gordon shared with his friends. Gordon, now celebrated as the Father of American Dry Fly Fishing, wandered the South for many years with his mother. They finally settled in Savannah where bad investments forced them to move North. Gordon took a job in his uncle's Wall Street firm. His summers he spent fishing the Catskills. It was there he met, courted, and lost an attractive, athletic young woman. A consumptive from childhood, Gordon's declining health forced him to leave Manhattan permanently and take up residence in the town of Liberty, New York near the Neversink River and the Loomis Sanatorium. During his last years in Liberty he sold fishing flies and bred chickens for their hackle. Local Catskill anglers revered him for his angling skills.Gordon was less forthcoming about was his fishing discoveries. He kept his fly designs, his method of tying flies, and his strategy for finding what he called the "effective fly" all secret. The American Fly Fishing Experience exposes these secrets. It describes step-by-step how he tied flies. It provides a list of his favorite flies with their dressings. It describes "ringing the colors," his method for finding the "effective fly." And it relates the story of how Gordon discovered his greatest fishing invention, the sparse fly.At one point researching Gordon I grew resentful. In most respects an unremarkable man, Gordon ventured occasionally into the public eye to sell magazine pieces about American fly fishing and so stave off penury. Ten hours of close reading will cover all available primary sources pertaining to Gordon. His collected writings, his articles about fly fishing and extant personal correspondence, occupy no more than 541 pages. Another 30 pages of interviews include all first hand accounts of him by friends. The primary sources, such as they are, leave great gaps in his life. This frustrated me. Many writers have tried to fill those gaps and failed. I was one. Stymied, I reassessed. Taking a hard look at Gordon's essays I realized that Gordon the author could not be the innovative angler lionized later.To complete a book about Gordon, I needed to find an avenue of research no writer had pursued. One intrigued me. It was fishing like him. A forbidding task, for Gordon on a Catskill river was the best angler of his day. Few of us qualify for such praise, even on our home waters. Yet it occurred to me that attempting to fish like Gordon, no matter how clumsy the attempt, might turn up new information about him.It did. After teasing out all references to his favorite flies and the strategies he employed to fish them, I tied up his flies and used them on my Michigan rivers and then on New York's Beaverkill and Willowemoc Rivers. It was an eye opener. They still catch fish. Gordon was not the laid back amateur sportsman he represented himself to be in his essays but rather a tough minded accomplished angler, always experimenting, never satisfied with the dictates of tradition. His style of fishing, what he called "rough and ready" fly fishing, is the American fly fishing experience. Gordon led us to it.
Brule River Press, 9781733476904, 226pp.
Publication Date: September 30, 2019