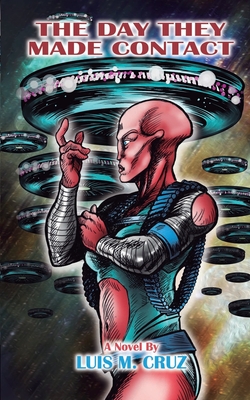 The Day They Made Contact
Paperback

* Individual store prices may vary.
Description
"The Day They Made Contact" tells of a young man's courage to protect the only home he's ever known, Earth.

The Briggs family - John, Sandra, and their son, Jason - are watching television when the signal suddenly cuts off. Instead of the normal program coming back on, an alien voice resonates and introduces himself as Beklota. He says that his people, the Draqkor, are on a mission of peace and exploration and that they will arrive on Earth within twenty-four hours.

One day, When 15-year-old Jason Briggs comes home from school showing symptoms of the flu, he finds an alien sitting in his living room trying his mother's coffee. He doesn't expect the alien, a female by the name of Oubrago, to heal him of his illness, nor gain extraordinary abilities by merely touching him. Over the years, the Draqkors aid humans by advancing there space traveling technology. In exchange, they request highly confidential files from every country around the globe regarding U.F.O's. Not long after, Oubrago reveals to Jason of the Draqkors' true intentions: to conquer and enslave humanity for the extermination of the first Draqkors who crash-landed on Earth near a small town in New Mexico called Roswell.

Jason grows up, enlisting himself in the newly formed Air and Space Force. He fights against Beklota himself, who is surprised by Jason's "alien" abilities. During that encounter, Jason is struck down and is on the verge of dying. He is taken to the nearest hospital, where Oubrago mentions to Jason and his mother of the special genetic bond that has been transmitted through common touches shared between the two of them. That she is pregnant, as a result from the common touches, and that she can transfer his essence into her mind until she gives birth to a clone of him ninety-seven years from the present.
Dark Fire Press LLC, 9781733504461, 216pp.
Publication Date: November 25, 2019