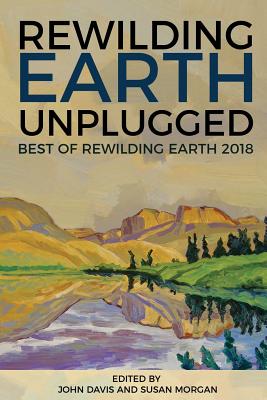 Rewilding Earth Unplugged (Paperback)
Best of Rewilding Earth 2018
Essex Editions, 9781733519014, 276pp.
Publication Date: June 7, 2019
* Individual store prices may vary.
Description
Rewilding is restoring natural processes and species, then stepping back so that nature can express its own will. In essence, rewilding means giving the land back to wildlife and wildlife back to the land.
Recalling the late great Wild Earth journal, this provocative anthology showcases the most notable original articles and art published by Rewilding Earth (rewilding.org) in 2018. Rewilding Earth Unplugged is an inspiring, informative, and user-friendly manual for how to protect and restore wild places and their residents.
TABLE OF CONTENTS
Introduction: Rewilding Distilled by John Davis
Wildlands Philanthropy
Bringing Back the American Serengeti by Nicole Rosemarino
Filling the Arc of Appalachia: Restoring Wildness to Southern Ohio by Nancy Stranahan
Safeguarding an Adirondack Wildlife Corridor for Wildlife and People by Jon Leibowitz
Rewilding Argentina: Park by Park by Sofia Heinonen & Luli Masera
Original Ecosystems
Eastern Old-Growth Forests Then and Now by Robert T. Leverett
Working to Restore the American Chestnut by Sara Fern Fitzsimmons
Wildlands Defense
Deconstructing Today's Great Land Grab by Dave Foreman
The Attack on the National Park System by John Miles
Forest Protection in the Trump Era by Douglas Bevington
BLM Under Trump and Zinke: A Disaster for Public Lands by George Wuerthner
Population
Why Family Planning Is Good for People and the Planet by Suzanne York
Daring to Tell the Truth about Sustainability by Terry Spahr
Poetry
The Good News by Gary Lawless
Through High Still Air by Tim McNulty
Coexistence
The Saga of the Mexican Gray Wolf (El Lobo) by Dave Parsons
Wildlife Governance Reform: Where to Begin by Kirk Robinson & Dave Parsons
Fostering Wildlife-Friendly Farming and Recognizing Biodiversity as Critical to a Fully Functioning Farm by Jo Ann Baumgartner
Bowman Divide Critter Crossing by Brad Meiklejohn
WANTED: Missing Cat by Sherry Nemmers
The Killing Roads by Sandra Coveny
Rewilding Initiatives
Mogollon Wildway Ramble: Field Notes from Scouting a Proposed National Scenic Trail by Kelly Burke & John Davis
Following Alice the Moose: Notes from an A2A Reconnaissance Hike by John Davis
Facing the Challenges of Dam Removal in Alaska by Brad Meiklejohn
Rescuing an Endangered Cactus: Restoring the Santa Fe Cholla by Nancy Lehrhaupt
Puma Recovery for Eastern Wildways: A Call to Action by Chris Spatz & John Laundre
A National Corridors Campaign for Restoring America the Beautiful by Michael Soul
Rewilding Bookstore
Rewilding at Many Scales: A Book Review Essay by John Miles.