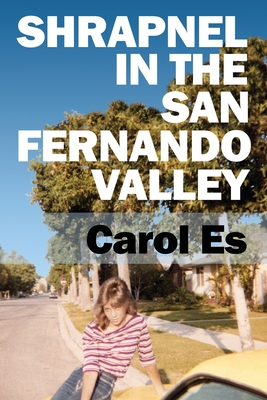 Shrapnel in the San Fernando Valley
Paperback

* Individual store prices may vary.
Other Editions of This Title:
Hardcover (8/29/2019)
Description
Luck is a very thin wire between survival and disaster, and not many people can keep their balance on it. --Hunter S. Thompson
Self-taught artist, writer, and drummer, Carol Es grew up neglected and believing she was inherently bad. Having a mentally abusive mother and an unstable family that moved around a dozen times before her ninth birthday, she'd also endured horrific sexual abuse. By age 14, she left home unnoticed, emancipated herself by 15, and from there wound up trapped in a cult for 20 years.
Seduced by the celebrity that lured her into Scientology and their magic promises to fix her broken life, Carol maintained an unbreakable bond with her passions as a means of survival. She exhibited her art and played music tirelessly in bands on Sunset Boulevard and the LA circuit. She toured the US and Canada, signed with Sony Music, but all the while she'd been conditioned to hide and deny her own mental illness in order to stay true to the doctrine of L. Ron Hubbard--a man who claimed psychiatric treatment was an evil hoax.
In her memoir, Carol explains how it was even possible to be both brainwashed and live "normally" in the world of contemporary art and rock n' roll.
After a tumultuous childhood and years of mind control, Carol has taken a huge stride out of the blackness of fear and silence by completing Shrapnel in the San Fernando Valley in the face of resistance. With gallows humor and a unique perspective, she invites readers into her confidence, laying bare her most raw and intimate revelations on her seemingly endless search for self-worth as a woman. Managing to embrace the painfully sad scenes of her past and her biggest embarrassments, she finds absurdities one can only laugh about through tears.
Illustrated with original sketches throughout, Shrapnel in the San Fernando Valley is not just another survivor's tale or misery memoir, it is a courageous, relatable story about gaining the ability to identify growth from experience. Sometimes true victory comes when learning, relearning, and coming out okay is triumph enough.
Carol Es has earned many honors during her career in the arts, including a Pollock-Krasner and the Wynn Newhouse Award. Her work can be found in the Getty Museum, the National Museum of Women in the Arts, and MOMA. As a musician, she has worked with renowned producers, recorded with artists such as Rickie Lee Jones, and has toured North America. She lives in Los Angeles, where she enjoys studying cultural anthropology and spending time with her partner and their little gray dog. For more info, visit Carol's blog at esart.com/blog.
Desert Dog Books, 9781733520881, 370pp.
Publication Date: August 29, 2019