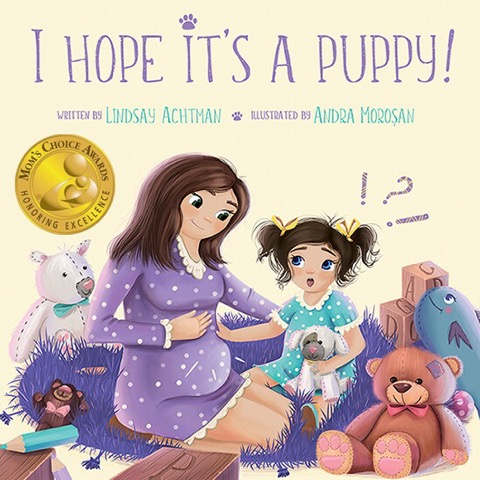 I Hope It's A Puppy! (Hardcover)
For The Love Of Literacy LLC , 9781733525008, 32pp.
Publication Date: May 27, 2019
* Individual store prices may vary.
Description
Mommy's having a baby, and says it's quite a blessing! I hear it's a surprise, but I'm super great at guessing! This unique story invites you to take a look at pregnancy through the eyes of a child. With each turn of the page, you are sure to be filled with wondrous imagination and endless laughter! Recommended for children ages 2-8.
About the Author
Lindsay Achtman is a passionate teacher and loving mother who pours her personal experiences into her writing. Lindsay captures the perspective of a child perfectly in her stories, as she uses humor and poetry to teach lessons and ignite the imagination. She looks at life as an adventure waiting to be explored. When she is not writing or in the classroom, Lindsay enjoys spending time with her family and puppy, Lola, playing games, having picnics in the park, swimming in the lake, and cheering on her favorite Michigan sports teams. Lindsay Achtman is also the proud author of the story, The Day The Swing Stopped.
Praise For I Hope It's A Puppy!…
I Hope It's A Puppy is a recipient of the prestigious Mom's Choice Award. The Mom's Choice Awards® (MCA) evaluates products and services created for parents and educators and is globally recognized for establishing the benchmark of excellence in family-friendly media, products and services. Using a rigorous evaluation process, entries are scored on a number of elements including production quality, design, educational value, entertainment value, originality, appeal and cost. Around the world, parents, educators, retailers and members of the media trust the MCA Honoring Excellence seal when selecting quality products and services for families and children.
--Mom's Choice Awards

A young girl tries to identify the creature that's growing inside her pregnant mother in this picture book. The narrator's mother is having a baby, and while everyone tells the girl it's a surprise, she proudly proclaims, I'm super great at guessing! Based on how soft and fluffy her mother's body feels, the girl first predicts the infant will be a puppy. When the baby kicks, it reminds the narrator of a unicorn's horn. But since the infant is hiding inside, perhaps it's a shy bunny. The girl's animal guesses continue as noises and the way her mother moves inspire additional speculation. With each creature, the narrator envisions what fun they will have together. When her mother finally provides an ultrasound, the girl realizes that the baby will be a tiny human who will be her friend forever. Achtman's (The Day the Swing Stopped, 2018) rhyming, child s-eye-view text mimics the imagination of a preschooler perfectly (though this precocious narrator is already studying math). Morosan's (Good Morning, Mirror!, 2019, etc.) big-eyed white characters and delightful animals are cartoonish with soft edges. And the boisterousness of the girl's creativity is presented beautifully in her hoped-for adventures. For parents introducing the idea of a new child's joining the family, this playful tale offers a joyful and effervescent celebration of siblinghood.
--Kirkus Review

I Hope It's a Puppy! by Lindsay Achtman is a sweet story told from a little girl's perspective as she anxiously awaits the arrival of a new baby. A perfect bed time treat for growing families with lovely illustrations by Andra Morosan. The new baby is meant to be a surprise, but the little girl is good at guessing and and knows she'll be able to guess right. Her guesses are humorous and sweet, starting with a puppy she can play with to the fantastic idea of an unicorn she can take to school to a monkey she can climb trees with. Lindsay Achtman weaves a charming tale to help small children process the idea of a new baby joining the family. The story focuses on a little girl whose voice is perfectly captured by Achtman who uses a clever way of helping children process the idea of a baby. The little girl has a variety of guesses based on various clues she derives from her mom's pregnancy, such as feeling the baby kicking which leads her to believe the baby has to be a puppy. The innocence of childhood is clearly depicted as she fantasizes about what it'd be like to have a puppy to play with. As the story continues, her guesses become sillier and show a real childlike imagination. Achtman cleverly uses these clues to garner an understanding of what a mom goes through during pregnancy and is kept at a child's level such as her mom's teeter totter walk. Andra Morosan has a keen eye for detail in the illustrations which are playful and sweet images, bringing life to this little girl and her imaginative guesses. The illustrations are full of soft colors with gentle hues of purples and blues. Each page shows the little girl as she guesses and then Morosan brings those guesses to life with humor and joy. Achtman uses precise language with a rhyme scheme that adds a playful song-like quality and fits perfectly with the child's perspective. Achtman incorporates an ultrasound to help the little girl see the baby and understand the baby isn't an animal to play with but a small human that will eventually be someone she can play with. I Hope It's a Puppy! is a terrific story for parents to share with small children to help them understand - through fun and playful writing and stunning illustrations - when a new baby is joining the family.
--Liz Konkel- Readers' Favorite
or
Not Currently Available for Direct Purchase