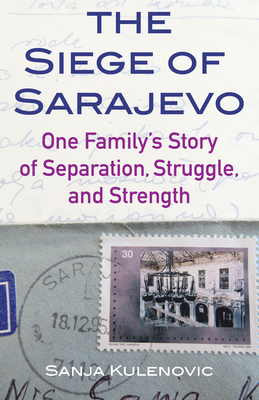 The Siege of Sarajevo
One Family's Story of Separation, Struggle, and Strength
Paperback

* Individual store prices may vary.
Description
"In a world facing the worst refugee crisis in history, this is an important and timely book."— John Zaritsky, Oscar-winning filmmaker

"An epic tale. … Moving beyond words."— Roy Gutman, Pulitzer Prize winner and Crimes of War Project chairman

"A universal human story … and an invaluable historical source."— Robert Donia, author of Sarajevo: A Biography

"Sanja Kulenovic's memoir captures courage and resilience … and shines a light on immigration crises everywhere."— Foreword Reviews

In 1992, Bosnian honeymooners in Southern California are suddenly stranded and homeless when their native Yugoslavia erupts into civil war. The stunned refugees must scrape together a new life in America with sporadic letters their sole, tenuous link to besieged family and loved ones back in Sarajevo.

Sanja Kulenovic shares those precious letters—often written in darkness as bombs fell and gunfire rang out—to vividly capture the suffering her family and other Sarajevans endured through almost four years of daily bombardments, the perpetual threat of sniper fire, and three frozen, foodless winters.

The Siege of Sarajevo searingly illustrates the human toll of war and the highly personal consequences of what often are dismissed as faraway conflicts. Highlighting the resilience and determination of immigrants, Kulenovic's powerful story reminds us all that we are stronger than we've ever imagined.

KiCam Projects, LLC, 9781733546201, 144pp.
Publication Date: September 24, 2019
About the Author
Sanja Kulenovic is a Russian-born Bosnian, now an American citizen, who has called Southern California home since the early 1990s, when she was stranded due to the Bosnian War. She studied economics and English language and literature at the University of Sarajevo, where several of her essays and short stories appeared in the university's magazine. In 1993, she presented a speech at a United Nations-sponsored event for Bosnian women and children. Since then, Sanja has earned a master's degree in economics and has been working as a financial analyst for an engineering corporation that helped rebuild Bosnia's infrastructure after the war. She resides in Los Angeles with her husband and two daughters.