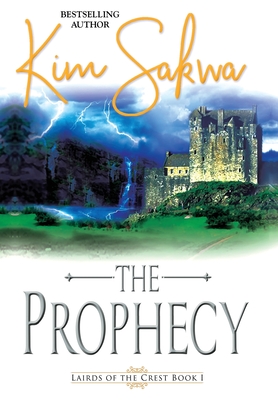 The Prophecy
Hardcover

* Individual store prices may vary.
Other Editions of This Title:
Paperback (7/16/2019)
Description
Read the #1 bestselling novel that's romance at its most magical.
She's a surgeon with a future. He's a Scottish laird in the past. Will their love be a timeless treasure or an eternal curse?
Dr. Gwendolyn Reynolds's career path is secure...so why does she feel so restless? Haunted by recurring dreams, she breaks away on a soul-searching trip to coastal Scotland. But when a storm forces her off the road, she plunges into icy waters, only to resurface in the arms of a handsome highlander.
Scotland, 1426. Fierce and feared, Laird Greylen MacGreggor has yet to meet his match. Eagerly awaiting the woman foretold in prophecy, he never expects her to be a 21st-century stunner with a feisty temper. But when he rescues her from the icy waters behind Seagrave Castle, his first touch confirms that Gwen is his destiny.
As sparks fly between the unlikely pair, they discover their passionate fate could be both powerful and deadly. Can Gwen and Greylen overcome centuries of differences to find true love
If you like your time-travel romance filled with steadfast lovers, steamy nights, and a dash of riotous humor, get spell-bound by The Prophecy.
***
FROM THE AUTHOR
Dear Readers:
First, thank you for reading and enjoying my first time travel romance novel THE PROPHECY. I want to share that for all future editions of THE PROPHECY, I've shifted the time setting from the 16th century to the 15th century. Why? Sometimes writers ignore their instincts, and later we need to go back to what we initially planned
I had originally set THE PROPHECY in the early 1400s, and then in subsequent edits I moved it ahead 100 years. Mistakenly thinking life wouldn't seem so stark. But, as some of my wonderful readers have noted, the history wasn't working quite right. Scotland in the early 1500s would have been involved with much political and religious intrigue leading to the Protestant Reformation, not to mention key activities happening in England-namely Henry VIII's selection of Anne Boleyn as his second wife and his efforts to annul his first marriage to Catherine of Aragon.
So now Gwen and Greylen's love story is back in the 1400s, where it was always meant to be. Thank you so much for taking the time to consider the setting and sharing your thoughts, and for enjoying this novel that proves that love isn't bound by time
THE PROPHECY is the first book in the Lairds of the Crest series, and soon you'll be able to read THE PRICE, the second in the series. I hope you'll find it irresistible too
Taggart Press LLC, 9781733617215, 462pp.
Publication Date: July 16, 2019