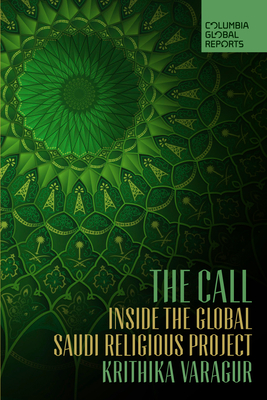 The Call
Inside the Global Saudi Religious Project
Paperback

* Individual store prices may vary.
Description
Drawing upon dozens of interviews, government records, and historical research, The Call lays out what we really talk about when we talk about Saudi money. Everyone talks about Saudi money, but no one really knows what it is. In The Call, Journalist Krithika Varagur, a longtime chronicler of religion and politics, tells the story of Saudi influence as it has never been told before, in a book reported across the breadth of the Muslim world, from Nigeria to Indonesia to Kosovo. Varagur connects the dots on Saudi Arabia's campaign to propagate its brand of ultraconservative Islam worldwide after it became oil-rich in the 20th century. She visits diverse outposts of its influence, from a Saudi university in Jakarta to a beleaguered Shi'a movement in Nigeria, and finds that the campaign has had remarkably broad and sometimes uniform effects, from the intolerance of religious minorities to the rise of powerful Saudi-educated clerics. The kingdom has spent billions of dollars on its dawa, or call to Islam, at many points with the direct support of the United States, but what have been the lasting effects of Saudi influence today? And what really happened to their campaign in the 21st century, after oil revenues slumped and after their activities became increasingly subject to international scrutiny?
The Call lays out the conseuqnces, intended and unintended, of a Saudi initiative that has taken on a life of its own, and illuminates the gobal sweep of the Kingdom's ambitions over the last century. An award-winning journalist follows the money to track the pervasive spread of Saudi Arabia's particular brand of ultraconservative Islam.... Riveting. --Kirkus Reviews, starred review
Praise For The Call: Inside the Global Saudi Religious Project…
"An award-winning journalist follows the money to track the pervasive spread of Saudi Arabia's particular brand of ultraconservative Islam….In her three riveting, thoroughly researched case studies, Varagur investigates why the Saudi brand of Islam is so appealing: It is radical in its simplicity, clearly instructs behavior, provides direct access to important texts, and offers a sense of community to its believers worldwide….Varagur wisely allows many voices to be heard—and shows how Saudi influence is now more transparent but still insidious."
—Kirkus ★ starred review

"The Call provides a first-hand deep dive into the facts of how Saudi Arabia spawned Salafi movements abroad that now are largely self-sustaining, as the kingdom yields to global pressure (and the reality of diminished oil revenues) by curbing its external spending to spread fundamentalist Islam. These days when so few journalists bother to dig for facts, preferring to pontificate, Krithika Varagur's work stands out."
—Karen Elliott House, author of On Saudi Arabia: Its People, Past, Religion, Fault Lines—and Future and winner of the Pulitzer Prize for international reporting

"A comprehensive analysis of Saudi Arabia's decades of proselytizing its ultra conservative Islamic views throughout the world. Based on meticulous research and field work, this is the best account in print of how our ally has spread its intolerance and extremism but also how that has evolved over time. A must read for Islam watchers."
—Bruce Riedel, director of the Brookings Intelligence Project and the CIA's former Saudi Arabia station chief


Columbia Global Reports, 9781733623766, 229pp.
Publication Date: April 21, 2020
About the Author
Krithika Varagur is an award-winning journalist who covers Indonesia for The Guardian and has reported widely from Southeast and South Asia for publications including The Atlantic, The New York Review of Books, The Financial Times, The New Republic, Foreign Policy, and The New York Times. She regularly corresponds for outlets like NPR, the BBC, Democracy Now!, and Deutsche Welle and her work has been supported by the Pulitzer Center on Crisis Reporting, the International Women's Media Foundation, the Overseas Press Club Foundation, the Rory Peck Trust, and more. She is a National Geographic explorer and a former Amtrak writer-in-residence. Varagur graduated from Harvard University and was a Fulbright scholar at the School of Oriental and African Studies in London