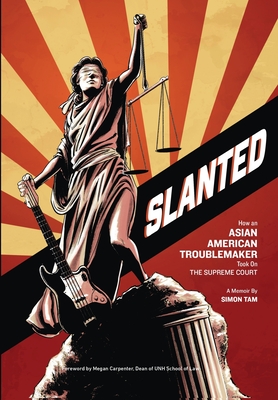 Slanted
How an Asian American Troublemaker Took on the Supreme Court
Hardcover

* Individual store prices may vary.
Other Editions of This Title:
Paperback (3/10/2020)
Description
Named One of the Best Books on the Constitution of All Time by Book Authority.
"His compelling memoir is about keeping true to his punk-rock heart and making history." - The Washington Post
"Racist. Hero. Stubborn. Fighter. Chink.
I've been called many things on the way to this moment, but ironically, I've never been called 'a slant.'"
When Simon Tam started an Asian American dance rock band called The Slants, he didn't realize that he was starting an entire movement around freedom of expression and discussions on identity. The band flipped stereotypes with their bombastic live shows and community activism. But when Simon applied to register a trademark on the band's name, the government dragged him all the way to the Supreme Court of the United States.
Slanted is the story of an indomitable spirit who so believes in the idea of justice that he's willing to risk everything along the way for the dignity of self-identity. Simon shares a deeply personal account that will take you from anime conventions to the Supreme Court, all in the name of justice. The story provides a raw look at our legal system with unflinching honesty and offers timely insights on freedom of speech, how to connect with others we disagree with, and the power of music.
Gripping, funny, enlightening, and ultimately uplifting, Slanted proves that no obstacle is too difficult to conquer --as long as you have a little heart and a lot of rock n' roll. It's an irrepressible story that is fresh, alive, and defines what it means to be American.
Things people have said about Simon:
"Dance rock band front man Simon Tam sought to trademark The Slants. His aim was to reappropriate a term long used to disparage a minority group and to render the term a badge of pride. All of us agreed." - Ruth Bader Ginsburg, Associate Justice of the Supreme Court of the United States
"Words - even a single word - can be powerful. Mr. Simon Tam named his band The Slants to make a statement about racial and cultural issues in this country. With his band name, Mr. Tam conveys more about our society than many volumes of undisputedly protected speech."- Kimberly Moore, Circuit Judge for the US Court of Appeals for the Federal Circuit
"No constitution, no bill of rights alone can guarantee human freedom. Only the people themselves can do that. People like Simon Tam...people who are willing to risk their security - and sometimes their lives - to make the Bill of Rights not just empty promises on paper, but a living reality." - Linda Monk, The Bill of Rights: A User's Guide
"You might be asking, who cares what a band can or can't call themselves. But that's the beauty of creativity: when you allow some passionate Asian American artists to express themselves authentically, you never know what or who they may inspire." - Ronny Chieng, The Daily Show with Trevor Noah
Troublemaker Press, 9781733629102, 242pp.
Publication Date: April 30, 2019